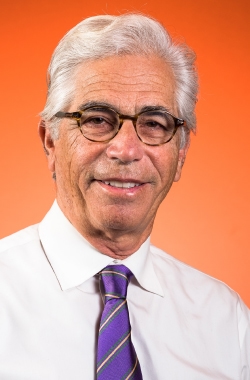 Offers Phone/Video Appointments
About Dr. Kushner
Dr. Frederick Kushner earned his undergraduate degree and medical degree from Columbia University. He completed a residency in internal medicine at Harvard University and his cardiovascular fellowship with the University of Pennsylvania and at Harvard Medical School at The Massachusetts General Hospital.. He is board-certified in Interventional Cardiology, Cardiovascular Diseases and Internal Medicine.
Dr. Kushner is recognized as a leader in the medical community actively serving as Vice-Chairman of the ACCF/AHA Guidelines for the Management of ST-Elevation Myocardial Infarction and as a Member of ACC/AHA Task Force on Practice Guidelines; a professional committee which advises physicians nationwide in matters of professional standards. He has published in national peer-reviewed journals and presented at national scientific meetings.
Throughout his career Dr. Kushner has been committed to community and medical education and is frequently selected by professional and civic organizations to lecture. He serves as Clinical Professor of Medicine at Louisiana State University Medical Center and Adjunct Professor of Medicine at NYU. He has been actively involved in medical students' and residents' training and efforts to improve quality health care.
Affiliations
West Jefferson Medical Center
Education and Experience
Medical School
Columbia University New York, NY

Residency
Beth Israel Hospital Boston, MA
1976
Fellowship
Massachusetts General Hospital Boston, MA
1979
Board Certification
American Board of Internal Medicine

Existing patient: If you are an existing patient of this provider, you will need to log in to the patient portal to schedule your appointment.
New patient: If you are a new patient, start by answering the questions below.