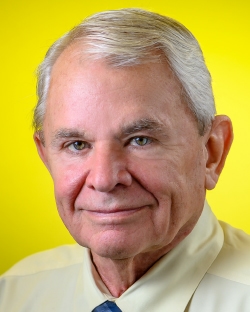 About Dr. Hollier
Dr. Larry H. Hollier has served as Chancellor of LSU Health Sciences Center New Orleans from November 14, 2005 to November 2021. Comprising six health professions schools, LSU Health Sciences Center in New Orleans educates Louisiana's health workforce, research scientists, and public health policymakers. He is a practicing vascular surgeon as well. Dr. Hollier was President and Chief Operating Officer of Mount Sinai Hospital in New York before being recruited in 2004 to lead his alma mater as Dean of the School of Medicine at LSU Health Sciences Center New Orleans, where he earned his medical degree in 1968, was named Chief Resident in Surgery in 1974, and entered academic medicine with an appointment to the LSUHSC faculty in 1975.
Dr. Hollier established the Division of Vascular Surgery at LSU in 1975 and, together with Dr. Robert Batson, started the LSU Vascular Surgery training program in 1978. Dr. Hollier then was recruited by Mayo Clinic in Rochester, Minn., and started the Division of Vascular Surgery, the Vascular Surgery Fellowship and Vascular Research program at Mayo, where he practiced from 1980-1987. He subsequently served as Chair of Surgery at the Ochsner Clinic, and a member of the Board of Management of the Ochsner Clinic, and then as Medical Executive Director at HCI in Scotland before becoming Chair of Surgery and subsequently President of the Mount Sinai Hospital in NYC. Dr. Hollier is certified by the American Board of Surgery and is certified in General Vascular Surgery. He is a Fellow of the American College of Surgeons, the American College of Cardiology, the Royal College of Surgeons of England, and the Royal College of Physicians and Surgeons of Glasgow, Scotland, and an Honorary Fellow of the Vascular Section of the Royal College of Surgeons of Australia.
In addition to being a lecturer on vascular and endovascular surgery, Dr. Hollier is the author of more than 300 journal articles and serves on the editorial boards of 13 surgical journals. His particular expertise has been in the open and endovascular management of Thoracic and Thoracoabdominal Aortic Aneurysms.
My Little Something Extra:
Long-standing interest and expertise in the management of aortic disease.
Affiliations
University Medical Center New Orleans,
Touro