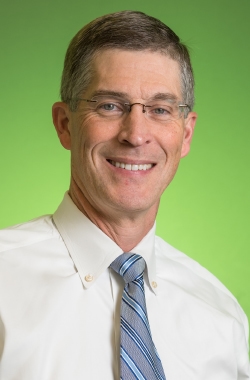 About Dr. Brumund
Dr. Michael Brumund specializes in Fetal and Pediatric Cardiology, Adult Congenital Cardiology and Cardiac Intensive Care at Children's Hospital New Orleans.
Dr. Brumund grew up in Georgia and received his Bachelor of Science degree in Biology and Bachelor of Arts in Physics from Emory University. He received his Doctor of Medicine and completed his pediatric residency and his pediatric cardiology fellowship training at the Medical College of Georgia.
Following that he was in private practice for 17 years before joining The Heart Center at Children's Hospital New Orleans. He is the current Director of Outpatient Cardiology and is the Medical Director of the Adult Congenital Heart Disease program.
Dr. Brumund is board-certified in Pediatric Cardiology by the American Board of Pediatrics and the American Board of Internal Medicine. He serves as an Associate Professor of Clinical Pediatrics at LSU Health New Orleans.
His clinical interests include the evaluation and management of recurrent syncope and heart murmurs. His research interests center around the evaluation and management of pulmonary hypertension in patients with airway anomalies and underlying chronic lung disease.
When asked why he chose to specialize in Pediatric Cardiology, Dr. Brumund said, "I take a very personal interest in all my patients and their families from fetus to the adult. The practice of congenital cardiology is very unique and provides me the opportunity to care for patients before they are born, in the newborn period, throughout childhood and then into adulthood."
Dr. Brumund sees patients at the main campus of Children's Hospital in Uptown New Orleans, Children's Hospital Denham Springs Center, Children's Hospital Covington Health Center, and Hebert Medical Group in Eunice, LA.
To schedule an appointment at any location, please call our scheduling line at 504.896.2888.
With over 18 years of experience, Dr. Brumund continues his practice because he genuinely loves caring for children and their families affected with congenital heart disease. He enjoys being able to care for them from before delivery, throughout childhood and into adulthood. He takes great pleasure in watching his patients grow and develop into adults with children of their own.

Little Something Extra: As a former collegiate swimmer, he took up triathlons just a few years ago. He has now completed three full-distance IRONMAN races with no plans to stop competing in the future!
 
Affiliations
Touro,
Children's Hospital New Orleans,
East Jefferson General Hospital
Education and Experience
Medical School
Medical College of Georgia School of Medicine Augusta, GA
1995
Residency
Medical College of Georgia Augusta, GA
1998
Fellowship
Medical College of Georgia Augusta, GA
2001
Board Certification
Adult Congenital Heart Disease - American Board of Internal Medicine
Pediatric Cardiology - American Board of Pediatrics
Pediatrics - American Board of Pediatrics