Pulmonary Respiratory Care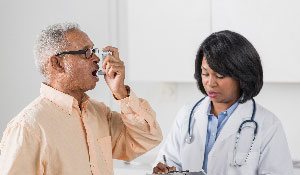 The Pulmonary Clinic at Tulane Medical Center offers personalized, state-of-the-art care and treatment for diseases that attack the lungs and respiratory system, also known as pulmonary diseases. Holding a reputation for excellence, we offer a comprehensive range of consultative services using the newest lung diseases diagnosis and therapy methods. Our pulmonary physicians specialize in evaluating and treating a full range of pulmonary and lung conditions.
Tulane Medical Center is also home to the Grace Anne Dorney Pulmonary and Cardiac Rehabilitation Center. Our pulmonary specialists will work closely with the center's rehab professionals to help you improve your breathing and overall health through exercise, education and support. The center offers one of the first rehab programs in the New Orleans area specifically for people with chronic obstructive pulmonary disease (COPD).
Services and treatments
Asthma
Bronchitis
Chest pain
Chronic cough
COPD (Chronic Obstructive Pulmonary Disease)
Cystic Fibrosis
Emphysema
Lung Cancer
Lung Infections
Persistent and recurrent wheezing
Pneumonia
Pulmonary Fibrosis
Pulmonary Function Testing
Pulmonary Hypertension
Shortness of breath
Sleep Disorders
Swallowing disorders
Tuberculosis
Vocal cord dysfunction
For more information about Lung Care, please visit the Tulane University School of Medicine Lung Care.