Extraordinary nurses make us the Nightingale Hospital of the Year
University Medical Center is proud to be named the Hospital of the Year for facilities with 161 beds by the 2021 Nightingale Awards, presented by the Louisiana Nurses Foundation and the Louisiana State Nurses Association. The prestigious awards recognize nurses and nursing programs for excellence and quality service in various categories.
Several of our nurses achieved top Nightingale honors, including Clinical Practice Nurse of the Year, Rookie of the Year, and Outstanding Community Achievement by a Registered Nurse.
Meet two of our Nightingale winners:
Nursing Mission:
To continue to build on our long-standing history of exceptional individualized nursing care to the patients and families we serve.
Nursing Vision:
To become the leading Academic Medical Center for nursing professional practice that supports a healthy workplace environment.
Nursing Values:
Understanding, mentoring, compassion, nurturing, outstanding. These words were chosen because of their definition and meaning to University Medical Center New Orleans nursing. The first letters of each word also spell out UMCNO.
2020-2021 Nursing Annual Report
Nursing Professional Practice Model​​
A Professional Practice Model is a symbol that depicts the mission, vision, and core values for nursing practice. University Medical Center New Orleans' Nursing Professional Practice Model signifies nursing practice in every setting of patient care, including: inpatient, outpatient, perioperative, clinic, and community.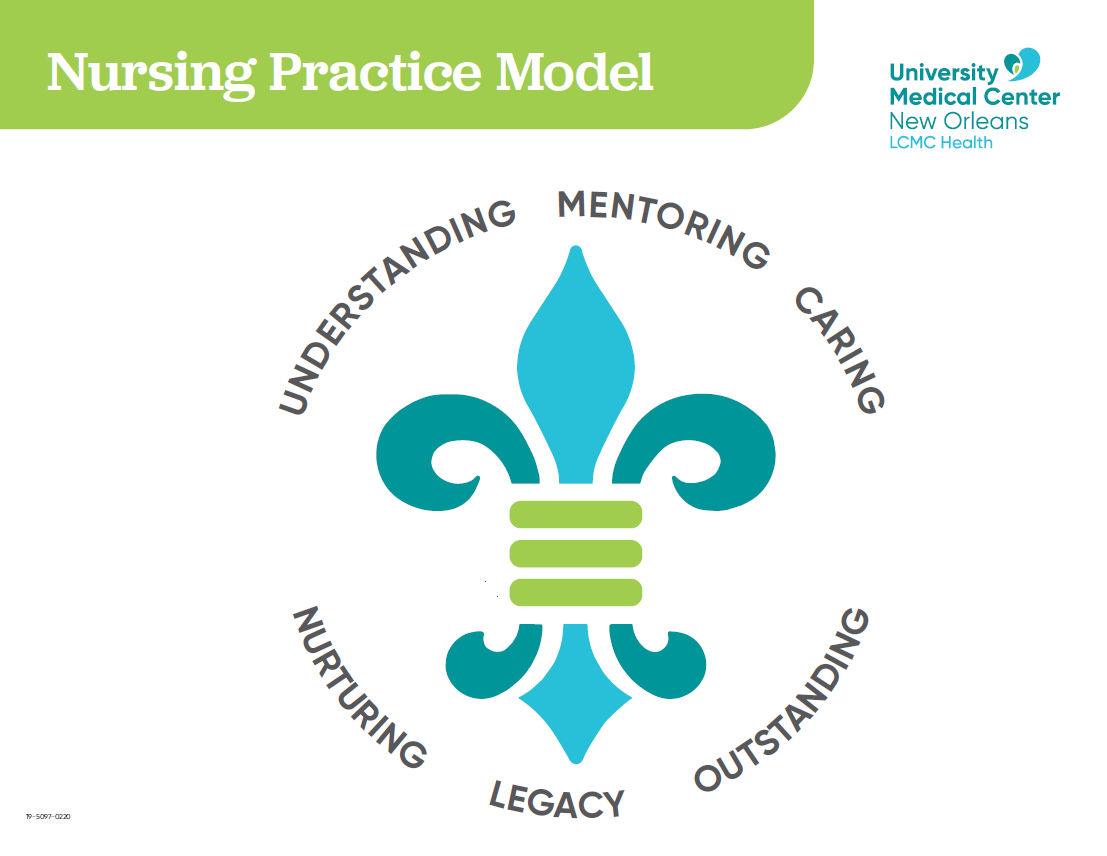 ​
Our Professional Practice Model is a six-point Fleur de Lis with three central bands.
The three bands and focal point around the middle of the Fleur de Lis shows the center and purpose of our core values and embraces these values while holding them together. These three bands represent the patient, family and, community we serve.
Further defining the Professional Practice Model, each individual leaf of the Fleur de Lis represents one of our nursing core values. The nursing core values create the acronym "UMCNO," and are aligned withe the values of LCMC Health, our parent company, as well as University Medical Center.
Taking each leaf of the Fleur de Lis in turn:
The first leaf "U" shows Understanding. Understanding is applying the ability to think about concepts and relations into daily practice. By being understanding, University Medical Center nurses think about the well-being of all during daily encounters and interactions.
The second value "M" is for Mentoring. Mentoring is a reciprocal and collaborative learning relationship. This is important to grow and cultivate future professionals and leaders.​​
The third point "C" stands for Caring (Concern for Humanity). Compassion has been viewed as "nursing's most precious asset" (Schantz, 2007). While maintaining professionalism, University Medical Center nurses connect all the nursing practices within the scope of nursing with a sympathetic consciousness of those we care for. (Revised in 2020 from compassion.)​
The forth letter "N" is for Nurturing. Offering support and encouragement for patients, families, communities and fellow professionals.​​
Lastly "O" is for Outstanding (Contribution to Profession). The services and concern University Medical Center nurses display are outstanding. We strive to do our best and will continue to work at getting better.
The sixth point or leaf of the Fleur de Lis is our Legacy. Although not exactly a core value, it is a very important attribute to our beliefs and a large part of our culture. We have a very long and proud history of health care and serving the community (Almost 300 years). Although things may change, we still want to remember our history as the base of our values and where we came from, to continue to build for the future. So, the legacy leaf is grounded in the center of the model.
By taking from the University Medical Center Mission and Vision, we decided on four cornerstones to build our model: Leadership, Academics, Research and Innovation.