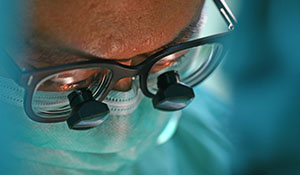 Welcome to your Team for Life. Tulane Medical Center, located in the heart of New Orleans, LA, has long played an important role in the development of organ transplantation. Since the early 1960's, Tulane physicians have strived to make life better for people with organ failure.
In 1959, the first living donor kidney transplant in New Orleans was performed at Tulane. We are proud of our long history in transplant, and we're proud that we have built on that history to be named a Center of Excellence for liver, kidney and pancreas transplants. As a truly multiorgan program, we offer comprehensive disease management for patients with a variety of kidney, liver, pancreas and intestinal disorders.
With the focus on patient care and outcomes, our multidisciplinary team of dedicated physicians evaluates and treats each patient as an individual. We strive to create a care plan that is comprehensive and personalized, reserving transplantation for patients that fail other, more conservative treatment modalities. Once transplantation is indicated, our outcomes are impressive. We pride ourselves on our results and have performed more than 3000 life-saving liver, kidney and pancreas transplants.
Our physicians continue to lead the way by performing cutting edge procedures, such as laparoscopic donor nephrectomies and laparoscopic liver resections. We have also been leaders in clinical research, working to improve patient care by searching for better ways to treat diseases such as Hepatitis C, and to prevent and eradicate rejection. Our state-of-the-art, dedicated clinic and inpatient unit allow for streamlined, multidisciplinary care of our patients. And cutting-edge technologies – such as the FibroScan alternative to traditional liver biopsies – provide treatment and management options not available at many transplant centers.
The Tulane Abdominal Transplant Clinic is located on the 6th floor of Tulane Medical Center. It has a spacious waiting area, state-of-the-art exam rooms, and multi-purpose rooms which are used for meeting with the transplant social workers, financial coordinators, dietitians, nurses and doctors, or for viewing educational videos with ease, comfort, and privacy. The Clinic includes two state-of-the-art procedure rooms which are used to perform biopsies, remove Port-a-caths, and perform other routine procedures. There is a large infusion room, complete with lounge chairs and individual televisions, where our patients can receive intravenous therapy in comfort.
Are you interested in becoming a living kidney donor?
Learn More on One Medical Passport
About Tulane Transplant Institute
The vision of Tulane Transplant Institute is to be the institute of choice for innovation in state-of-the-art care, cutting-edge research and world-class education in an ethical and compassionate environment.
We base this on the core values of:
Respect
Service to Community
Innovation
Stewardship
Commitment to Quality
Compassion
Integrity
Our mission at Tulane is to:
Provide comprehensive and compassionate care to our patients.
Enhance the quality of life for patients, families, and communities.
Be a leader in developing, conducting, evaluating, applying, and sharing scientific and clinical research.
Provide ongoing educational opportunities to our staff and the professional healthcare community.
Provide public education about healthcare, organ donation, and transplantation services.
Educate and mentor the next generation of leaders through the discovery and advancement of science.
Foster a culture of caring, collaboration, respect, and excellence.
Support and promote an active partnership in the Missions of Tulane University School of Medicine and Tulane Medical Center.
Contribute to and support the development of ethical public policy the affects the lives of patients, families, and communities.
Educate, encourage, and empower patients and families to become active partners in their own healthcare.
Tulane Abdominal Transplant Unit
The Tulane Abdominal Transplant Unit (TATU) consists of all private rooms with a private bath and shower. The unit can accommodate patients needing intensive care as well as those who are less acutely ill. Therefore, our patients do not have to move throughout the hospital during their recovery; transplant patients will stay on the TATU throughout their hospitalization.
The TATU caters to all transplant patients: kidney, liver, pancreas, as well as readmission for any transplant patient with either transplant or non-transplant-related medical issues.
The TATU nurses are specially trained, educated, and oriented to the particular needs of the transplant population. They undergo an intensive educational program dedicated to the care of the transplant patient. There is also a nurse practitioner on the TATU who collaborates with the transplant physicians to provide the best care possible for every transplant patient.
We're "transplanting" our services to the northshore!
While the Tulane Transplant Institute will continue to see patients and perform procedures in the existing Tulane Medical Center location, we are now also seeing patients in the new Tulane Surgery Clinic Northshore, located on the Lakeview Hospital campus in Covington.
Transplant patients and donors who live on the Northshore now have more convenient access to pre-op appointments, follow-up appointments, education, support groups and more. Please contact the clinic at 985.867.4223 to learn more.