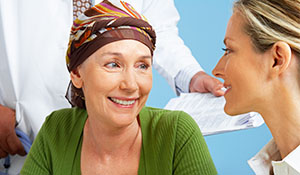 Our cancer physicians are recognized experts focused on offering each patient today's best therapy. The Tulane Cancer Center is home to several expert cancer physicians specializing in all areas of cancer care, including: medical oncology, surgical oncology, radiation oncology, gynecologic cancer, urologic cancer, prostate cancer, childhood cancer, skin cancer, neurosurgery, head and neck cancer, lung cancer, and bone marrow and stem cell transplants.
Tulane Health System's oncology program is accredited by the Commission on Cancer, which means our patient care has met the rigorous standards set by this organization through a focus on prevention, early diagnosis, pretreatment evaluation, staging, optimal treatment, rehabilitation, surveillance for recurrent disease, support services and end-of-life care. It also validates that we provide a full range of medical services along with a multidisciplinary team approach to patient care.
Services and treatments
Infusion suite
Counseling Services
Clinical trials
Genetics
Minor Procedures
Clinical research
Tulane Cancer Center physicians don't just treat patients with cancer – many are leading research efforts to find a cure. View recent publications on cancer research being led by Tulane doctors.
Do you have questions about a referral to Tulane Cancer Center? Please call our patient referral coordinator at 504.988.7444, or fax your information to 504.988.7473.
Helpful resources
Many organizations and agencies are working to help those affected by cancer. Here are some online resources that can help you learn more.