Imaging at East Jefferson General Hospital
The radiology team plays a vital role in assisting every department at East Jefferson General Hospital, not just radiology. For those seeking imaging services, New Orleans, Metairie, Jefferson Parish, the North Shore, and River Parish residents can expect the highest level of care and dedication from each team member at our facility.
East Jefferson General Hospital is a place where state-of-the-art technology meets compassionate care. Our array of diagnostic technologies is unsurpassed, but the true difference is our physicians who use these technologies to interpret and diagnose with the greatest possible accuracy.
We know that our patients have busy schedules, that's why we have three different locations. Our mission is to make your care convenient and comfortable.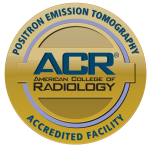 We were named the top regional Partner in Quality by the American College of Radiology.
Some of our many imaging and radiology services include:
Computed tomography scan (CT/CAT scan)
Digital and diagnostic X-ray
GE Prodigy Dexascan
Interventional radiology
Magnetic resonance imaging (MRI) – High Field Open, High Field 3T, 1.5T
3D Mammography
Nuclear medicine
PET-CT
Ultrasound testing for the abdomen, chest, pelvis, breast and thyroid areas
Before your visit
We strive to deliver quality patient care above and beyond the technical procedure. From preparatory consultation to final results, we are there with you—through every step of the process. The following information should help you prepare for your visit to our imaging centers, but please do not hesitate to reach out to us with any questions you may have.
Be prepared
How you prepare for your exam depends on what part of the body is being examined and the protocols used in your particular facility. In some cases the staff may ask you to change into a hospital gown for the exam. And you may be asked not to eat or drink anything before your exam.
3D Mammography
At East Jefferson General Hospital, we are proud to be able to provide our patients with breast tomosynthesis or 3-D mammography. This type of screening allows for imaging of the breast from multiple angles. This can significantly increase the accuracy of mammography, especially for women who are premenopausal, women with dense breasts, or those with increased risk factors.
The great news is that 3D mammography takes the same amount of time and causes the same low-dose of radiation as traditional mammography, but the outcome of the exam itself is so much better.
If you are premenopausal, have dense breasts or have increased risks of breast cancer,
Ask your physician if 3D mammography is right for you.
UroNav
UroNav is a targeted MR/ultrasound biopsy powerful new solution for targeted biopsy of the prostate. The UroNav fusion biopsy system offers a cutting edge option for many patients with elevated and/or rising PSA levels. UroNav fuses pre-biopsy MR images of the prostate with ultrasound-guided biopsy images in real time, for extraordinary delineation of the prostate.
Contact:
Imaging Scheduling 504.883.6900
Hospital Radiology Department 504.503.4314
Imaging Center Department 504.885.4223
Outpatient Fax Dedicated Line 504.456.8048