Fast, expert, emergency care in Metairie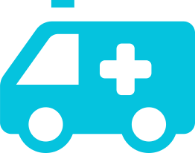 Rapid and expert emergency care at East Jefferson because we know in the ER, every second counts.
At East Jefferson General Hospital (EJGH), our Emergency Department offers a full range of emergency services. We're committed to quality care, comfort, efficiency, and safety—even during the toughest, most urgent cases in our ER.
Check-in online to hold your spot in the Emergency Room.
Since 1979, we've provided 24/7 emergency medical services throughout East Jefferson. We're talking Metairie, the North Shore, New Orleans, Kenner, and Harahan. We think of Metairie as home. And each patient as our neighbor. You can count on us to provide emergency care for critical conditions as quickly and efficiently as possible. Because we know in the ER, every second counts.
Reduced ER wait times
We're changing the way many people think about a trip to the ER with our new Geaux Zone. The Geaux Zone is our way of caring for patients with minor conditions, so they get treated and released more quickly. The result? More resources for the seriously ill and injured and reduced ER wait times overall.
Expanded ER services
If you visit our ER, you'll find 18 private rooms and 33 beds. It gets the job done—but we're ready for something bigger. So, we're expanding and renovating our ER to bring even better care to more people.
Easy provider Communication
Going to the ER is hard enough. You shouldn't have to worry about communicating everything that happens with your primary care doctor. That's why we have Computerized Physician Order Entry (CPOE). It allows doctors to update your patient chart automatically, work with other doctors, and immediately notify nurses of any changes in treatment.
Expert EMT's and paramedics
A visit to the ER often starts with our Emergency Medical Services (EMS) team. We strategically place EMS units throughout East Jefferson, so the response time is as fast as possible. Through our partnership with Delgado Community College, you'll find Emergency Medical Technicians (EMTs) and paramedics in training who are learning alongside the best emergency staff in the region. Together, we're creating a community service known for its professionalism, speed, and skill.
Each year, our EMTs and paramedics answer nearly 40,000 calls. Their average response time is five to six minutes. With the latest technology, our team also can perform a 12-lead EKG on the go and send test results directly to the hospital.