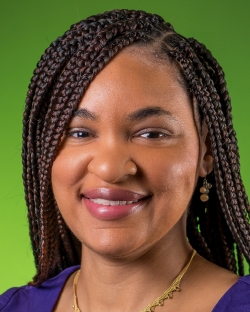 About Dr. Caldwell
I specialize in Cancer Care. I became a healthcare provider because I have always had the desire to help people during their most difficult times. When I was three years old, I suffered a major injury and became very familiar with the medical field. Like the physicians who cared for me, I work hard to extend that same care to others in need.
When people come to me with a diagnosis of cancer, it is one of the most devastating moments in their lives. My patients can count on me to provide extraordinary care because of my ability to completely empathize with them and what they are experiencing. It is my calling to ensure that patients and their families have all their needs met, including psychosocial deficiencies that may have been overlooked.
My little something extra
I was born and raised in the River Parishes - St John the Baptist Parish to be exact. I am a Louisiana girl to my heart! On any given Sunday during football season, you can find me cheering on the New Orleans Saints. I love my alma mater, Xavier university of Louisiana, gumbo, boiled seafood, and beignets!
Affiliations
East Jefferson General Hospital
Education and Experience
Medical School
Morehouse School of Medicine Atlanta, GA
2014
Residency
Tulane New Orleans, LA
2018
Fellowship
Tulane New Orleans, LA
2021
Board Certification
American Board of Internal Medicine
Hematology - American Board of Internal Medicine