Inpatient Rehabilitation Services at LCMC Health
We know how important recovery is after your stay in the hospital. Illness or injury, our team will help get you back on your feet.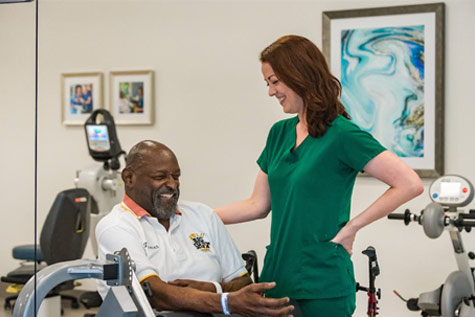 We are proud to have CARF (Commission on Accreditation of Rehab Facilities) accreditation at Touro, West Jefferson Medical Center, East Jefferson General Hospital, and Children's Hospital New Orleans. The CARF program is recognized around the world for setting the standard in rehab care.
Why choose a CARF facility?
Being CARF accredited means our staff is committed to constantly improving, year after year. We put your care at the center of everything we do, finding new ways to enhance your treatment options.
The Gilda Trautman Newman Rehabilitation Center at Children's Hospital of New Orleans is one of only 66 facilities in the country with pediatric CARF certification and the only one in Louisiana.
Our CARF accreditations include:
Children's Hospital of New Orleans
Brain injury
Inpatient rehab
Pediatrics
East Jefferson General Hospital
Touro
Amputation
Brain injury
Cancer
Inpatient rehab
Spinal cord injury
Stroke
West Jefferson Medical Center
Amputation
Brain injury
Inpatient rehab
Stroke
Adult inpatient rehabilitation
Touro, East Jefferson General Hospital, and West Jefferson Medical Center provide adult rehab services. These include:
Brain injury
General rehabilitation
Limb loss and orthotics/prosthetics
Neuro-developmental treatment
Parkinson's Disease therapy
Pet therapy
Spinal cord injury
Stroke
Swallowing disorders
Each care plan is tailored to your specific needs. We know that you are an individual so we take into account your personal preferences and cultural beliefs. Rehab services are available day or night, with therapy five days a week.
Pediatric inpatient rehabilitation
Children's Hospital of New Orleans provides inpatient rehab for children up to 21 years old with over 40 pediatric services, focusing on functional treatments. We also recognize how important family support is for your child's success and work with each family member throughout your child's stay.
For more information:
Resources