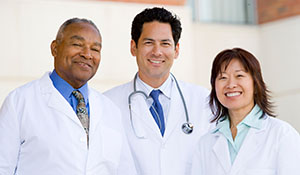 Tulane's primary care specialists are committed to providing excellent healthcare services to any family member of any age with any problem. Conveniently located around the city, the clinics provide pediatric and adult services ranging from diagnosis and treatment of minor illnesses to routine checkups.
The clinics are staffed by board certified physicians, experienced nurses and staff who offer a full spectrum of primary care services.
Internal medicine
The Internal Medicine Practice at Tulane Medical Center is a full service adult medicine practice located on the 7th floor of the downtown hospital. We focus on the treatment of adult diseases and offer a full array of preventative and diagnostic services to keep you healthy, while offering prompt treatment to help you get back to your daily routine as quickly as possible. We can help you deal with a wide range of illnesses and health care issues, allowing you to get the medical care you need, when you need it.
Services & treatments
Cardiovascular Disease
Cholesterol Management
COPD
Depression
Dermatology
Diabetes
Diagnostic Services
Dietary Counseling
Endocrinology and Metabolism
Fatigue
Geriatric Medicine
Headaches
Tulane multispecialty clinic metairie
Services & treatments
Adult Cardiology
Ear, Nose and Throat
Endocrinology
Gastroenterology
Infectious Diseases
Internal Medicine
Nephrology
Neurology
Orthopaedics
Pediatrics – General
Urology
Multispecialty clinic new orleans
Services & treatments
Family Medicine
General Surgery
Infectious Disease
Internal Medicine
Pediatrics – General
Neurology
Nephrology
Psychiatry
Surgical Preoperative Assessment
Vascular Neurology
Multispecialty clinic uptown
Services & treatments
Adolescent Medicine
Family Medicine
General Internal Medicine
Neurology
Ob/Gyn General
Pediatrics General
Surgery-General/Laparoscopic
Lab
X-Ray