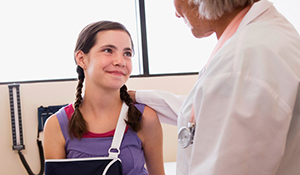 Treating sick children isn't like treating adults. The pediatric healthcare professionals at Lakeside Hospital understand the difference. That's why we provide quality healthcare in a comfortable, non-threatening environment to improve the health and wellbeing of the infants, children and adolescents in the New Orleans area who need our help.
In addition to our inpatient and emergency pediatric services for children, Tulane Lakeside's neonatal intensive care unit provides the best care for our tiniest patients.
Our NICU has access to a wide range of on-call pediatric specialist physicians, including:
Pediatric oncologists
Pediatric cardiologists
Pediatric ear, nose and throat specialists
Pediatric gastroenterologists
Pediatric nephrologists
Pediatric neurologists and neurosurgeons
Pediatric orthopedic surgeons
Pediatric pulmonologists
Pediatric surgeons
Our bright, child-friendly facilities and gentle, experienced professionals help make visits a safe, comfortable experience for both you and your child.