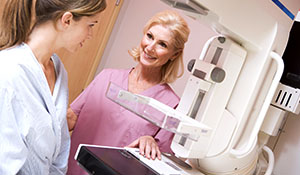 Lakeside Hospital is dedicated to the complete breast health of women in the Greater New Orleans community. Our facilities are outfitted with technologically advanced equipment that provides a full range of services including prevention, screening, diagnosis and treatment of breast ailments. A multidisciplinary team of specialists work together to provide holistic care that meets the unique physical and emotional needs of each patient in a warm and compassionate manner.
Services & treatments
Bone Density Testing (DEXA)
Breast Evaluation and Monitoring
Diagnostic and Screening Digital and 3D Mammography
Breast Ultrasound
Cyst Aspiration
Galactography
Core Breast biopsy (Stereotactic and Ultrasound guided)
Clinical Breast Exams
Second Opinion Services
MRI
3D Biopsy
Ancillary and rehabilitation services
Risk assessment
To schedule a mammogram, call us at 504.988.1200 or online by clicking here.