Vaccine Card 101: Safeguarding, replacing, and where it's needed
As you may have heard, the City of New Orleans has issued certain requirements for proof vaccination or negative COVID-19 test within Orleans Parish.
Starting August 16, 2021, the new guidelines say that anyone 12 years of age and older must provide proof of at least one dose of an approved COVID-19 vaccine or negative PCR test within 72 hours, including employees, for the following locations and spaces:
INDOOR DINING
Restaurants
Bars
Breweries, microbreweries, distilleries & micro-distilleries
INDOOR FITNESS
Gyms
Indoor group fitness centers or individual fitness classes
INDOOR ENTERTAINMENT & PERFORMANCE SPACES
Indoor sports complexes, stadiums, and arenas (including Caesars Superdome and Smoothie King Center)
Concert & music halls
Event spaces such as hotel ballrooms, event venues, and reception halls
Pool halls, bowling alleys, indoor play centers, arcades, skating rinks, and indoor playgrounds
Adult live performance venues
Casinos, racetracks & video poker establishments
Indoor amusement facilities
LARGE OUTDOOR EVENTS
Outdoor events of more than 500 people if total attendance is more than 50% of the outdoor venue's capacity.
Safeguarding your vaccine card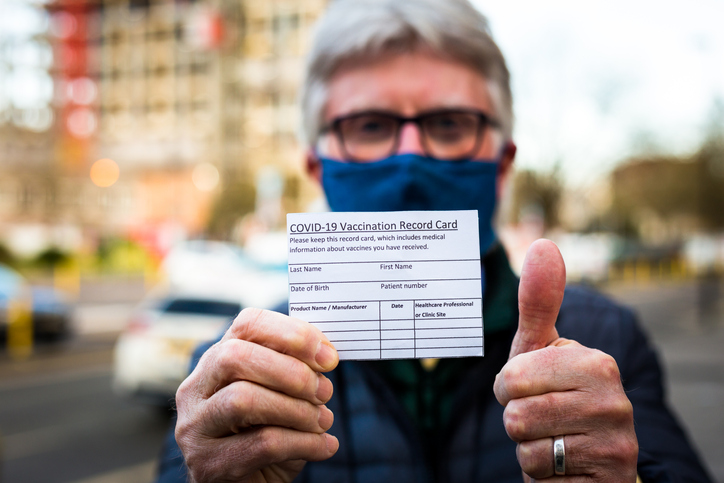 Take a photo of your vaccine card. But do NOT post the photo on social media. Treat it like a social security card.
Store it in a safe place. Keep it in a place you'll remember and where you store other important documents. (Perhaps in your hurricane box...)
Place the card in a plastic sleeve. This will keep it dry and better protected from spills, stains, and environmental mishaps. (Don't let the dog eat it!)
Keep the whole family's vaccine cards safe. After your child's second vaccine dose, send a copy of the card to your pediatrician's office. The office can include this in your child's medical record. You may also need to send a copy to your child's school or college health office.
Now, let's discuss laminating your card. This practice is not encouraged, but don't panic. It's OK if you already did.
Office Depot is offering to make a copy AND laminate your vaccine card for free, which is nice. The copy part is the important part. Should you need a COVID-19 booster or if you change your name, laminating or sealing the card in plastic would prevent your vaccine provider from adding or changing this information to the original card. Again, don't panic. If you do receive a booster, you can ask your provider at that time for another paper card.
How can I get a replacement vaccine card?
If you've lost or never received a vaccine card, the CDC recommends contacting the site where you received your first shot. If you're unable to contact your original vaccine provider, try your state's health department's Immunization Information System (IIS). Vaccine providers are required to report all COVID vaccinations to the state. Look up your state's IIS here. Are you in Louisiana? Click here.
Another option is to enroll in LA Wallet, a smartphone app that keeps a digital representation of your current Louisiana-issues state ID or driver's license. LA Wallet can also display digital COVID-19 vaccination verification for those who opt-in. The app will display your COVID-19 vaccination status through a secure and confidential relationship with the Louisiana Department of Health called LINKS, a HIPAA-compliant solution set by principles outlined in the Vaccine Credential Initiative.
Step-by-step instructions for adding your vaccination status to LA Wallet can be found here. FAQs about vaccination status in LA Wallet can be found here.
What if I received my vaccine in another state?
In order for your COVID vaccination record to show up in your LA Wallet app, your information must be entered into the Louisiana Immunization Network, LINKS. To have this done, you can visit a Parish Health Unit – bring your card – and the staff there can access LINKS and enter your COVID vaccination. A list of parish health units can be found here.
What documents are needed to show proof of vaccination?
As New Orleans-area businesses begin to require proof of vaccination, it's important to check with each business for their specific guidelines. Most businesses will accept any of the following, along with a current photo ID:
Original or physical copy of your vaccine card
A photo of your vaccine card (both sides)
LA Wallet app
Official vaccine record issued by another state, foreign nation, or World Health Organization
More information about the city guidelines can be found here.
Where can I get a COVID-19 test?
Call our free LCMC Health Nurse Hotline for information about COVID-19 testing at LCMC Health or visit NOLA Ready for testing locations throughout Greater New Orleans.