Jacqueline dances out her last round of chemo
Author: Jacqueline
Date Submitted: Nov 2, 2021
Category: Cancer Care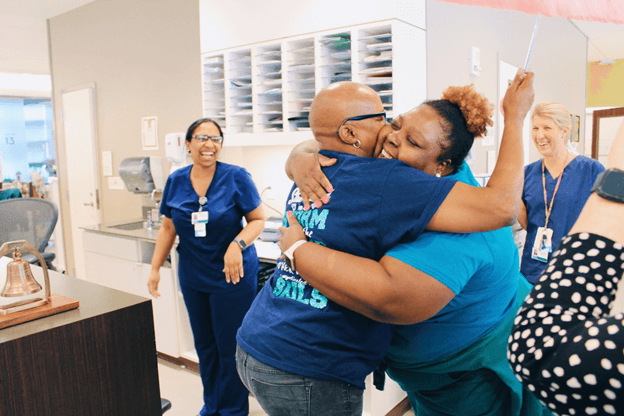 " "I thank all you for what you have done for Jackie. I thank all of you. I thank God. It was a team effort and they go hand in hand.""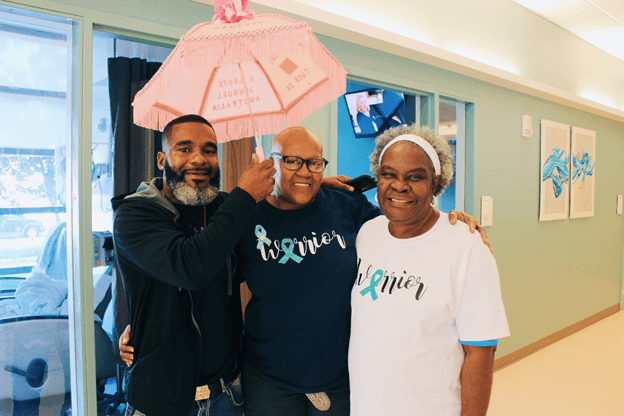 With a fringed pink umbrella in hand and a bounce in her step, Jacqueline approached a golden bell in the Cancer Center at University Medical Center and rang it, signaling the end of her chemotherapy treatment. The nurses, family, and friends surrounding her cheered and reached in for hugs and kisses. Jacqueline might not have imagined this scene five months earlier, when she received the devastating news that she had fallopian tube cancer.
Unsure of her possibility of a future, she began her treatment at University Medical Center New Orleans, and with guidance from her loved ones and the Cancer Center team, Jacqueline managed through chemo and with high spirits is ready to get back to her daily life.
Between standing up against and walking for cancer we have all been supporters of cancer research and may have even had a love one who had cancer. Being in a supportive role never prepares us for the possibility of discovering yourself having cancer.
"After being diagnosed with cancer I thought I was going to die." - Jacqueline
Hammond, Louisiana resident, Jacqueline, is a mother to a son who she loves dearly and describes herself as fun and loving. Although she was always surrounded by smiles and laughter, she found herself saddened by her cancer diagnosis. Jacqueline was diagnosed with cancer in her fallopian tubes in April 2019. On the day Jacqueline was diagnosed she described the support she received from her mother at the time, "She was there when I got diagnosed. I think the doctor told her before he told me. I didn't want to hear it. I wanted her to hear it. So, she's been great. She's been truly a blessing to me, and I love her so much. I don't think I could have made it without her."
Fallopian tubes are part of the female reproductive system and are what eggs pass through from an ovary to the uterus. There is one fallopian tube and one ovary on each side of the uterus in the female reproductive system. Fallopian tube cancer is one the rarest forms of gynecological cancer and is treated the same as ovarian cancer.
Jacqueline had cancer staging surgery in May with Dr. Navya Nair, a University Medical Center Gynecologist and LSU physician in the Cancer Center. Following her staging surgery, she went through six cycles of chemotherapy and finished her last cycle on September 12, 2019, where she proudly rang the bell with her family.
Following the honorary ringing of the bell ending her last round of treatment, Jacqueline and her family described their experience with University Medical Center's Cancer Center team. "I thank all you for what you have done for Jackie. I thank all of you. I thank God. It was a team effort and they go hand in hand," said Jacqueline's mother.
The past five months have not been easy for Jacqueline. Standing with a pink umbrella and showing off her matching shirt with her mother all smiles, you may have known what she experienced the past few months. Jacqueline was unable to work during her treatment and was unable to take care of son. Jacqueline described finishing her treatment as something that means everything. It means everything to her to be able to have the strength to finish raising her son and return the love and care she received from her family.
When asked about what she plans to do now she said, "I'm going finish getting well and I'm going to get my job. And give my man some relief for paying all the bills, taking care of everything for me. He's been there for me." Jacqueline laughed and ran her hands over her silhouette as she explained her plans of getting back into shape as one of her nurses complimented her and said it already looks like she's started to "get her sexy back."