Getting Here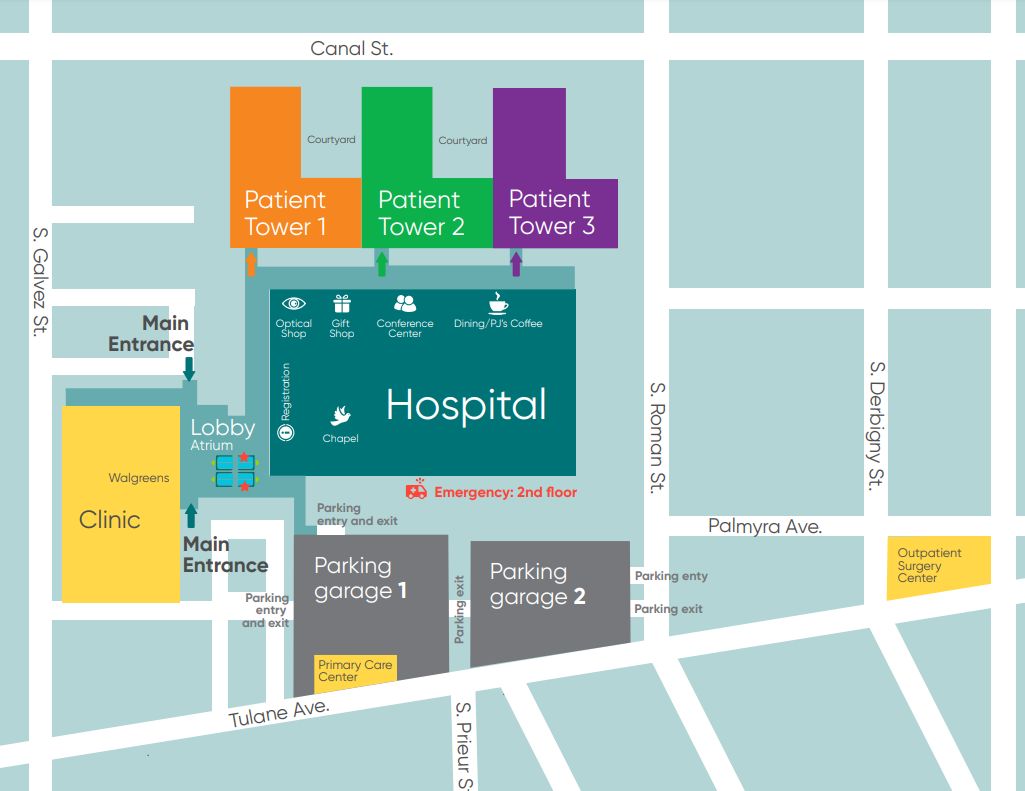 University Medical Center New Orleans is located at 2000 Canal Street, between South Galvez and South Roman streets. The main patient and visitor entrances face Tulane Avenue and South Galvez Street. Patient and visitor parking is available in our parking deck from Tulane Avenue at South Johnson Street. If using a GPS, the address for our parking garage is 2001 Tulane Avenue.
From Algiers and the West Bank: Take the Crescent City Connection and merge onto US-90 East/South Claiborne Avenue. Turn left onto Tulane Avenue. Enter the patient and visitor parking garage to the right of South Johnson Street.
From Jefferson Parish, St, Tammany and the River Parishes: Take I-10 East toward New Orleans and take exit 232 US -61/Tulane Avenue. After S. Galvez Street, make the first legal U-turn and enter the parking deck opposite South Johnson Street.
From New Orleans East and Slidell: Take I-10 West toward downtown New Orleans and exit 235B toward Canal Street/Superdome. Turn right onto Tulane Avenue. Enter the parking deck opposite South Johnson Street.
University Medical Center is conveniently located on the Canal Streetcar line, which operates 7 days a week. Click here for detailed times.
Patient parking
Free patient parking is available in the University Medical Center New Orleans parking garage, which is located near the intersection of Tulane Avenue and South Johnson Street, between South Prieur and South Galvez streets. Parking tickets will be validated in the areas where you receive care, including Clinic, Hospital and Emergency Department registration. Please remember to bring your parking ticket with you to your appointment for validation. Patient parking is also available in the surface lot near Tulane Avenue and Galvez Street near the University Medical Center Clinic Building.
Visitor parking
Visitor parking is available in the University Medical Center New Orleans parking garage, which is located near the intersection of Tulane Avenue and South Johnson Street, between South Prieur and South Galvez streets. To access the garage, turn from Tulane Avenue and make a right into the garage near the patient drop off area. At the time of entrance into the garage, please take a ticket. The hourly rates for parking are:
0-1 hours $3.00
1-2 hours $4.00
2-3 hours $5.00
3-6 hours $6.00
6-12 hours $7.00
12-24 hours $8.00
The lost ticket fee $12.00