The Gulf South's Only Verified Burn Center Between Galveston and Tampa
American Burn Association Verified Burn Center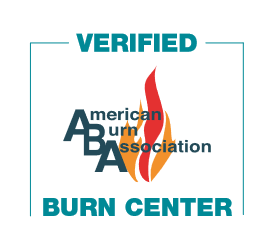 Verified by the American Burn Association, the Burn Center at University Medical Center delivers the highest standards of care to burn-injured patients. The Burn Center is a leader in advanced research, education and outreach.
27,000 square feet featuring innovative burn care to minimize pain and scarring
16 inpatient ICU beds
4 outpatient clinic rooms/disaster ICU beds
Debridement room with a hydrotherapy tank
Dedicated operating room
Therapy/rehabilitation center
Helicopter accessible
What is a burn center?
Every year more than 450,000 people in the US are treated for a burn injuries in emergency rooms.
Burn centers are highly-specialized clinical units for those injured that provide patient-centered care with a multi-disciplinary team approach. Patients from rescue to reintegration are offered comprehensive care for their injuries.
The diverse team brings a unique set of knowledge, skills, and experience in managing the complex nature of burn injury which can require critical care, surgical reconstruction, and rehabilitation. They addresses the patient as a person and aim to reduce morbidity and mortality while optimizing recovery.
There are more than 5,500 accredited hospitals in the United States.
270 are American College of Surgeons Verified Level 1 or 2 Trauma Centers
Burn statistics
Primary causes of burn injuries include fire-flame, scalds, contact with hot objects, electrical, and chemicals.
36 people suffer injuries as a result of home fires every day.
On average, fire claims 9 lives every day; that's 1 person every 2 hours.
According to the American Burn Association, > 96% of those treated in burn centers will survive.
Unfortunately, many burn survivors will sustain scarring, physical disabilities, and adjustment difficulties.
Burn injury is a leading cause of years lived disabled (YLD).
The importance of a burn-trauma center
The proximity of a trauma and burn center can be the difference in life and death for someone who is critically injured and in need of specialized treatment.
Trauma is the leading cause of death for people 44 and younger.
Patients with a combined burn/trauma injury have a 4 to 5 times higher mortality rate than burn or trauma alone.
The level 1 trauma center at University Medical Center
Learn more about our upcoming support group meetings and provider courses at the Burn Center here.
Meet the Medical Director
Jeffrey Carter, MD
Medical Director, University Medical Center Burn Center
Dr. Carter comes to University Medical Center from Wake Forest University in Winston Salem, N.C., where he served as Associate Director of the Burn Center at Wake Forest Baptist Medical Center, Director of Surgical Education at Wake Forest University School of Medicine, and Medical Director at the Center for Applied Learning. Dr. Carter earned his medical degree from East Tennessee State University in 2005 with honors and practiced general surgery and surgery critical care before specializing in burn treatment. He completed his burn/trauma fellowship at University of North Carolina, Chapel Hill and is board-certified by the American Board of Surgery in Surgery and Surgical Critical Care.
Watch Dr Carter's appearance on FOX 8 to discuss the opening of a new burn center by clicking here.
Read more about the burn center on NOLA.com by clicking here.
"The University Medical Center Burn Center will provide a distinct service in our community with a multidisciplinary approach, offering the latest surgical and non-surgical techniques." - Dr. Carter
More about burns
For more information about burns, please visit our health library: