Planning for Your Hospital Stay
Your Patient Care Team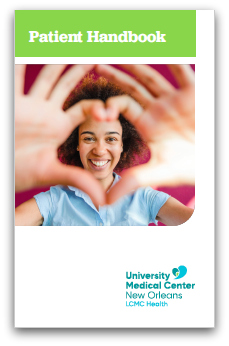 There are many members of the healthcare team involved in your care during your stay at University Medical Center. Attending doctors or consultants will direct your care and oversee resident doctors and medical students. We are a teaching facility, and as a result, residents, medical students, nursing students, and other medical career students may be involved in your care. If people you do not know enter your room to provide care, please feel free to ask who they are and what services they are providing. Each person providing patient care will have an ID badge visible.
What to bring
We provide personal items such as toothpaste and soap, but you are welcome to bring your own. Please bring items important to daily living such as dentures, eyeglasses, and hearing aids. If possible, please keep them in protective cases when not in use and place in the bedside table drawer.
Patient valuables
We encourage you to leave all valuables and unnecessary items at home or to send them home as soon as possible with a family member. If you are unable to do so, Hospital Public Safety Officers have a safe that may be used to store valuables. We are not responsible for any items/valuables that you keep with you. To request that your valuables be placed in the hospital safe, ask your nurse to contact Public Safety. When you are ready to be discharged, please tell a hospital staff member if you have valuables with Public Safety, so they may arrange a delivery to your room. Upon receiving your valuables, you will sign a receipt. If you do not pick up your valuables when you leave the hospital, you will need to go to the Public Safety Department to pick them up. You may call Public Safety at 504.702.3108.