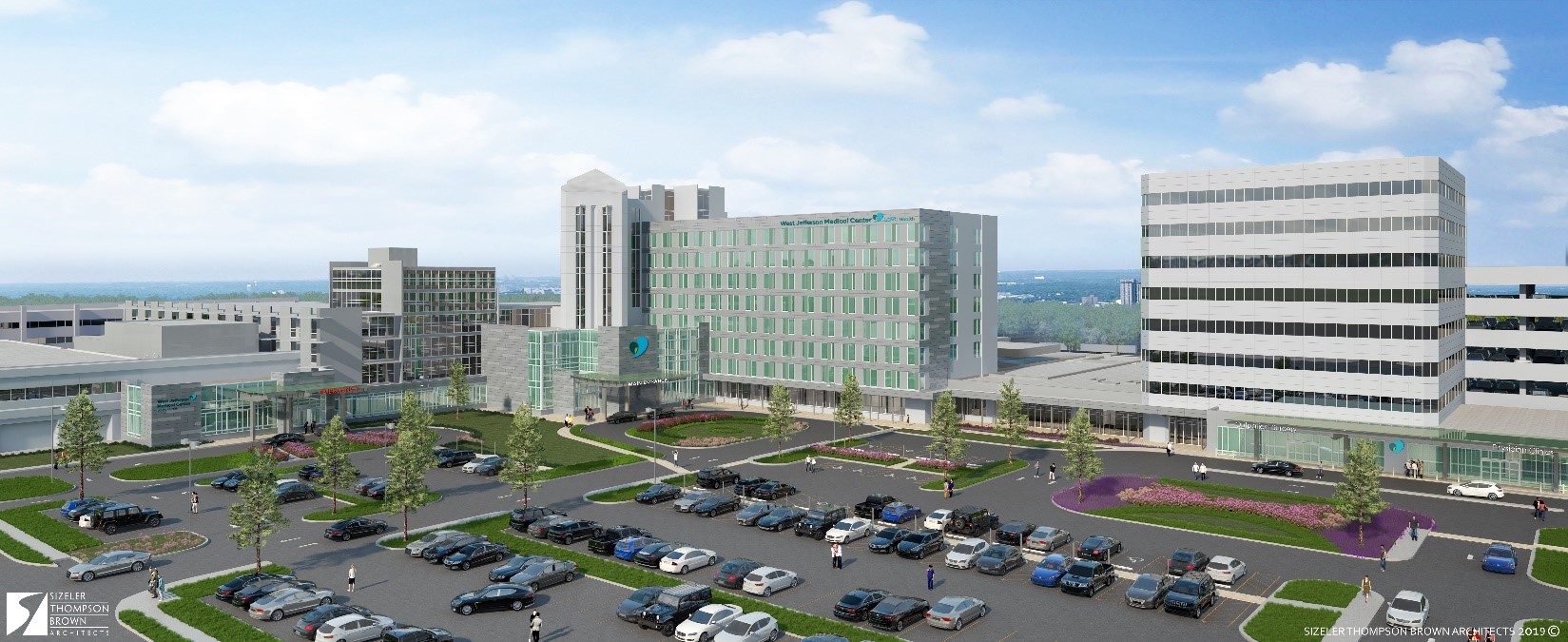 We're going the extra mile to make our hospital feel a little more like home, so we're embarking on a campus renovation to modernize and reshape the way our community interacts with us! In partnership with LCMC Health, our $86 million renovation will focus on some of our most critical healthcare areas including our Outpatient Surgery Center, Physician Clinics entry, Endoscopy department, Emergency department, and our main hospital entrance.
Outpatient Surgery and Physician Clinics entrance – completed fall 2019
Our new Outpatient Surgery and Physician Clinics entry has been completely designed with your convenience in mind. The 100-foot long glass canopy covering two lanes of traffic and covered entryway provides ease of access, especially during inclement weather. This entrance currently serves as the hospital's main entrance until the Atrium is completed.
Outpatient Surgery Center renovation and expansion – completed fall 2020
The renovation and 6,500 square foot expansion of our Outpatient Surgery Center now allows us to provide the custom-fit care you deserve. With four new operating rooms, eight new recovery bays, and additional storage and support spaces (not to mention our new, modern finishes throughout), this new facility nearly doubles the capacity of our previous one. More importantly, we can now provide you with better access to quality, outpatient surgical care in a comfortable environment.
Endoscopy – completed winter 2020
Our Endoscopy department has relocated to a brand new space, spanning over 10,000 square feet. It doubles our previous capacity with six procedure rooms and 15 private recovery rooms. With a new dedicated entrance, parking, and large waiting room, you can expect a more convenient and comfortable experience for you and your family.
Emergency Department – phased construction – completed winter 2021
We have renovated every square inch of our 10,000 square-foot Emergency Department and transformed it into a state-of-the-art facility! The renovations have increased our capacity and brought all areas up to contemporary design standards. Our patients can now enjoy a dedicated, covered vehicle drop-off, a light-filled registration and waiting room, a fast-track triage and treatment area, three new state-of-the-art trauma rooms, and a separated ambulance bay for increased patient safety. Our new updates promise to enhance the efficiency of your care, providing you with shorter wait times and easier access to quality, emergency care.
South Wing – phased construction – summer 2023
Patient care and recovery is always top-of-mind, so our patient rooms in our eight-story south wing have been renovated with all new finishes, bathrooms, and furniture to provide a more comfortable environment. This includes modernized postpartum rooms on our third floor Labor & Delivery wing, which will also welcome a brand new NICU and nursery for our mamas and their new little bundles of joy. The updates extend throughout the corridors, nursing stations, and support spaces ensuring one-of-a-kind care for every patient that walks through our doors.
Main Entrance - completed summer 2023
Our main hospital entrance will has been completely reconstructed, giving the hospital a modernized, welcoming front door. With a redesigned pedestrian and vehicular access and a new drop-off canopy, you can expect a convenient, safe experience during your visits. Outfitted with energy-efficient glass and contemporary finishes, the finished space greets patients and their family members with an everyone-is-welcome-here feel.
NICU - completed summer 2023
Our newly renovated level III NICU offers a contemporary design and calming feel for our tiniest bundle of joys and their parents. The new space is equipped with 10 open bay rooms, 1 isolation room, and 1 parent-infant room. Our level III NICU provides 4 Giraffe Omni beds, which are convertible as a radiant heat warmer and isolette, and a cuddle cot, which is a unique device that grants grieving parents the gift of time with their baby who has passed. The renovation of our NICU ensures that parents are well-equipped to care for their newborn in a safe and comfortable environment.