Whole grains on the brain
We've all been there. We tell our friends and family we're cutting grains, gluten, carbs, or bread from our diet to start being healthier. But not all grains should get this kind bad publicity. Quality is just as important as quantity when it comes to eating. Grains, specifically whole grains, have been shown to have a positive connection to better, overall health.
So what's the difference?
Whole grains
Whole grains are composed of three parts — the bran, germ and endosperm. The bran is the outer layer that is rich in fiber, Vitamin B, iron, copper, zinc, magnesium, and phytochemicals. The germ is the core that is packed with healthy fats, vitamin E, phytochemicals, and antioxidants. The endosperm is the interior layer that holds carbohydrates, some protein, and small amounts of Vitamin B and trace minerals.
These components all have various health benefits including feeling full after a meal, blood sugar control, anti-inflammatory capabilities, and digestive regulation. Whole grain options include whole wheat, barley, rye, oats, brown rice, quinoa, corn, and buckwheat.
Refined grains
Refined grains are processed in mills that strip away the bran and germ and leave the endosperm to create a smooth, easy-to-digest product with a longer shelf life. Although the endosperm is easier to digest, removing the bran and germ removes most of the fiber, phytochemicals, and anti-oxidants which results in a much lower nutritional quality. Highly processed or refined grains are used in flours that make those delicious, light-and-airy pastries and breads your sweet tooth craves.
The 2015-2020 Dietary Guidelines for Americans recommend that 6 ounces of grain foods should be consumed daily. Of these 6 ounces, at least half should be 100% whole grains. Choosing mostly whole grains and cutting back on refined grains has shown improvement in overall health.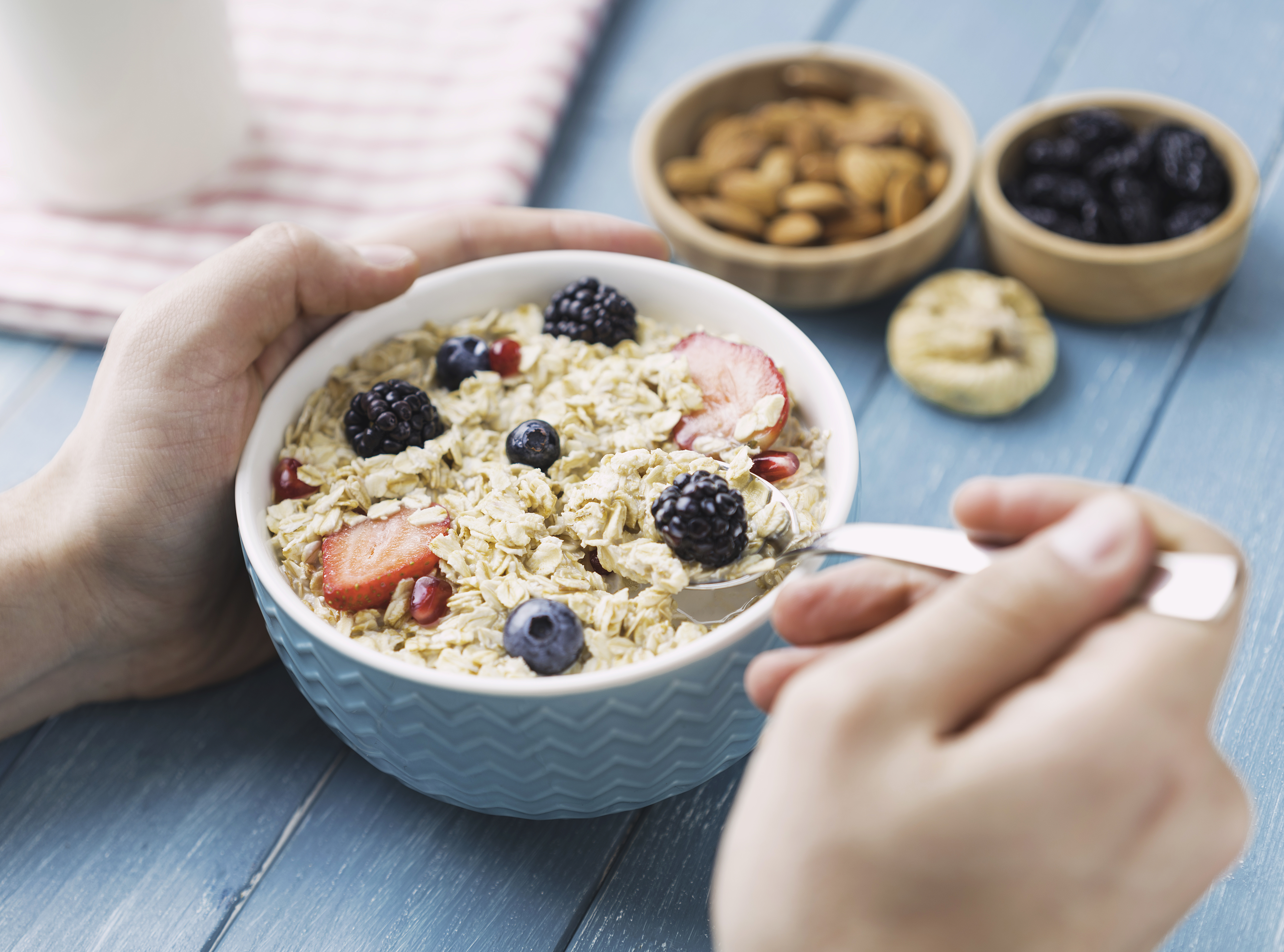 Gluten
Gluten is a naturally occurring protein that is found in some whole grains. Most gluten-free products are ultra-processed and refined, making them less nutritiously dense than whole grain gluten products. If you have an intolerance or a gluten allergy, stick to gluten-free 100% whole grain options such as sorghum, brown rice, corn, wild rice, buckwheat, quinoa, and oats.
Whole Grain Tips
Aim for 6 ounces of grains daily, with at least half being whole grain.
Pick minimally processed whole grains.
Ignore front of label claims and read the nutrition label. If one of the whole grains is not listed as the first ingredient or the product has more than 1015 ingredients, put it back.
Avoid ultra-processed and refined grain products such as instant oatmeal, sugary cereal, white bread, and most ready-to-eat products. Instead, switch to rolled oats, whole-grain cereal, and whole-grain breads.
Experiment by substituting heartier grains like brown rice and quinoa for your pasta, favorite soup, or casserole dishes.
Start the day off by incorporating different whole grain options into your breakfast. Try blending oats into a smoothie, making wheat berries topped with cinnamon and fruit, or a quinoa breakfast bowl with eggs and vegetables.
About Devin: 
Devin Brittain is a Registered Dietitian and Licensed Dietitian Nutritionist in the state of Louisiana. Born and raised in California, Devin obtained her Bachelors of Science in Food and Nutritional Sciences with an emphasis in Dietetics and Food Administration from California State University, Fresno. She then moved to Louisiana and completed her Dietetic Internship at Tulane's School of Public Health and Tropical Medicine. Devin is currently the Outpatient Dietitian for the Cancer Center at West Jefferson Medical Center where she assists patients and teaches healthy cooking classes. She is serving on the board for the New Orleans Dietetic Association where she strongly advocates for the dietetic profession and the health of her community. In her free time, Devin enjoys attending festivals, reading, developing recipes, dancing, and cheering on the Saints! She is passionate about utilizing her food and nutrition knowledge to benefit others and believes in finding innovative ways to encourage a healthy lifestyle that works for each individual.