RECIPE: Pumpkin chocolate chip oatmeal pancakes
Fall is my favorite season, mostly because of all the pumpkin spice things! Pumpkin is not only delicious, but it is packed with nutrients and can really level up some of your traditional recipes. One of my favorite recipes to make is pumpkin chocolate chip oatmeal pancakes! This recipe is gluten-free and very easy to make in your blender. It is packed with nutrients and fiber and will make for a delicious start to your fall morning. Don't forget to check out my special notes for additional ideas and tips.
(Yield: 6 pancakes)
Ingredients:
¾ c canned pumpkin puree
2/3 c milk of choice (I recommend trying it with unsweetened almond milk)
2 large eggs
2 t vanilla extract
1 T maple syrup or honey
2 t baking powder
1 ½ c glutenfree rolled oats
¼ t or a pinch of salt
1 ½ t pumpkin pie spice blend
¼ Semisweet chocolate chips
Directions:
In a blender, add all ingredients except for the chocolate chips and blend on high until smooth, about 1 minute.
Grease the pan, griddle, or skillet with a bit of oil and heat on medium heat.
When the pan is ready pour about 1/3 cup of batter into the pan. The batter will be thicker, spread with a spoon if needed, and add your chocolate chips. Cook for 2-4 minutes or till you see the pancake begin to puff and have bubbles around the edges.
Flip with a spatula and cook until golden. Remove the pancake and wipe remains before repeating steps 2-4 until batter is gone. Should be close to 6 pancakes per batch of batter.
Serve and enjoy with your favorite desired toppings. I like mine with peanut butter!
Special notes:
If pancakes are burning or the pan is smoking, you need to lower the heat; try medium-low.
The batter may appear thicker than used to, you can thin it with a bit more milk of choice if desired.
You can substitute the eggs with what is called a chia egg. A chia egg is 1 T chia seeds to 3 T water. Let the "egg" sit for a few minutes to gel up. This recipe would need 2 "Chia Eggs".
Although I love adding my semi-sweet chocolate chips, I also recommend trying this recipe with blueberries and/or with nuts instead of chocolate chips to add a different layer of flavor & nutrition!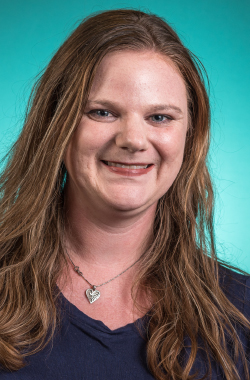 About Devin Brittain:
Devin Brittain is a Registered Dietitian and Licensed Dietitian Nutritionist in the state of Louisiana. Born and raised in California, Devin obtained her Bachelors of Science in Food and Nutritional Sciences with an emphasis in Dietetics and Food Administration from California State University, Fresno. She then moved to Louisiana and completed her Dietetic Internship at Tulane's School of Public Health and Tropical Medicine. Devin is currently the Outpatient Dietitian for the Cancer Center at West Jefferson Medical Center where she assists patients and teaches healthy cooking classes. She is serving on the board for the New Orleans Dietetic Association where she strongly advocates for the dietetic profession and the health of her community. In her free time, Devin enjoys attending festivals, reading, developing recipes, dancing, and cheering on the Saints! She is passionate about utilizing her food and nutrition knowledge to benefit others and believes in finding innovative ways to encourage a healthy lifestyle that works for each individual.