Resolutions and the New Year
Tips for approaching your 2022 New Year's resolutions
As we move toward the end of the year, celebratory New Year's Eve traditions will take place around the country with colorful fireworks displays, the popping of champagne, and the singing "Auld Lang Syne." But, for some, there's also another tradition that occurs at this time, and that's making a New Year's resolution. Whether it's to lose weight or get more organized, come January 2, many people are determined to change something in their life. But here's a spoiler alert, good intentions don't necessarily equate to long-term action, and that's especially true when it comes to New Year's resolutions.
Setting realistic goals is the first step to accomplishing your resolution
According to historical research, the concept of a New Year's resolution dates back some 4000 years, when the Babylonians first started making pledges to do things during celebrations to note the beginning of a new year. Early resolutions consisted of making promises to the gods to pay up debts or return objects they had borrowed. Fast forward to today, and research shows that the most popular resolutions of 2021 were:
Improving fitness by exercising more
Losing weight
Save money
Improving personal eating habits
If you made a New Year's resolution for 2021, you were among the more than 161 million Americans to do so in January. By February, you may have also been among the 80 percent of people who failed to keep their resolution! Yes, that's right, within weeks of making a resolution, most people have given up on their goal. That doesn't mean you shouldn't try, though, as there are steps you can take to make a resolution and stick to it.
Be realistic and specific when making a resolution: vague objectives, such as losing weight or exercising more, are harder to achieve if you don't have a specific goal like losing 10 pounds or walking so many miles a week. Having detailed, achievable goals is motivating and will help you see results.
Change your focus on how you approach a resolution: if your goal is to quit eating sweets, don't use the word "quit," instead, approach your goal by saying you will replace sweets with a healthier alternative, like fruit
Allow for flexibility: if your goal is to get into better shape, create an exercise plan that will achieve the goal through various means, not one specific method. A lot of people will join a gym and start an exercise regimen enthusiastically, but soon find that enthusiasm to fade, and for many people, they just stop going to the gym. Mix things up by finding a walking or biking buddy and create an exercise program that is more enjoyable so you can stay on track with your resolution.
Taking baby steps is ok: just because you set a goal to accomplish something doesn't mean you have to do it all within a few weeks. Taking baby steps is a way to see change quickly, which can be a great motivator. If your goal is to exercise more, start with planning one week of exercise and then plan the next week. Before you know it, you've devised a routine that works for you and keeps you on track to meet your goal.
Reward yourself along the way: if you hit a milestone, give yourself a reward. It could be something as simple as buying a new pair of tennis shoes. If your goal is to declutter your house and you accomplished a thorough cleaning of a room, purchase a nice plant or some flowers to put in that room as a reminder of what you have achieved.
Regardless of your resolution, there is one thing everyone can do and accomplish every day, according to the ninth commander of U.S. Special Operations Command, Naval Adm. William H. McRaven; he even wrote a book about it. What is that task? Make your bed. As the admiral says, completing that one simple task allows you to have accomplished the first duty of the day that can inspire you to move on to the next, and hopefully, that includes your personal New Years' resolution.
About Dr. Patel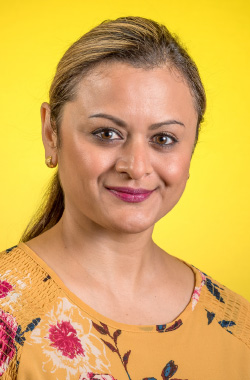 After completing her Bachelor's of Science at Louisiana State University (LSU), Dr. Patel attended medical school at Ross University School of Medicine, followed by the completion of her Internal Medicine training at LSU Lafayette. She is board-certified in Internal Medicine and has been practicing hospital medicine for the past 3 years at West Jefferson Medical Center.