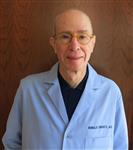 About Dr. Swartz
Dr. Swartz has been practicing urology in the New Orleans area for over 40 years. He is board certified by the American Board of Urology and a member of the Orleans Parish Medical Society, Louisiana State Medical Society, and the American Urological Association. Dr. Swartz specializes in treating all urological conditions.
Education and Experience
Medical School
Tulane University School of Medicine New Orleans, LA
1968
Residency
Mount Sinai School of Medicine New York, NY
1975
Board Certification
American Board of Urology
American Board of Urology, Inc.