3 Summer Treats Perfect in this Heat
While not all may side with IHOP's decision to enter the burger industry, we can agree on this:
This summer is HOT!
With temperatures approaching triple digits, you may be reaching for popsicles, ice cream sandwiches, and snowballs to cool you down. After all, you know what they say: "if you can't take the heat, get out of the kitchen!" But before you overload on sugar and throw in the towel, consider a set of treats that are cool, healthy, and perfect for beating the heat.
Here are three healthy, dessert-style recipes you need to try this summer:
Stacked Fruit Salad
Ingredients
2 tablespoons fat-free vanilla yogurt
2 tablespoons fat-free ricotta cheese
1/4 cup crushed pineapple, drained
1/4 cup blueberries
1/4 cup mandarin oranges
1/2 small kiwi, peeled and sliced
1 ring spiced apple
Directions
Mix the yogurt and ricotta cheese in a small bowl. Use a small spatula to smooth each layer as you add it to a parfait glass or a ring mold (place the mold on a plate). Spread 1/4 cup drained pineapple in the bottom. Spread half the yogurt-ricotta mixture over the pineapple. Top with a layer of blueberries. Mandarin orange segments come next, then another yogurt-ricotta layer. Arrange slices of peeled kiwi. Top with the spiced apple ring. Cover loosely and refrigerate, unless you're ready to eat it at once. If you use the ring mold, some juice may leak out during refrigeration. Use a paper towel to dry the plate just before serving.
Serves: 1
The serving contains about 175 calories, 7 g protein, 0 g fat, 0 mg cholesterol, 38 g carbohydrates, 3 g fiber, and 56 mg sodium.
This dish is gluten-free.
Cherry Swirl Pudding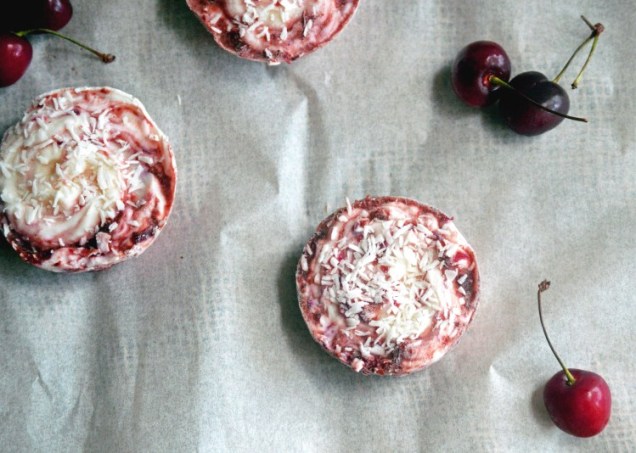 Ingredients
2 cups fat-free plain yogurt
2 cups sweet black cherries, pitted
1 teaspoon pure vanilla extract
1/4 cup dried, unsweetened coconut
Directions
Increase the yogurt's density by putting it in a strainer lined with cheesecloth or a coffee filter over a bowl. Refrigerate. After 2 hours, you'll see about 1/2 cup liquid to discard. Halve the cherries. Mix the cherries, vanilla extract, and coconut into the yogurt. Refrigerate until ready to serve in stemmed cocktail glasses (just spoon it in).
Serves: 4
Each serving contains about 145 calories, 8 g protein, 9 g fat, 0 mg cholesterol, 24 g carbohydrates, 4 g fiber, and 100 mg sodium.
This dish is gluten-free.
Pineapple Smoothies

Ingredients
1 cup fresh pineapple chunks
1 cup light vanilla yogurt
1 cup crushed ice
Directions
Put ingredients in a blender. Puree and pour.
Serves: 2
Each serving contains about 110 calories, 5 g protein, 1 g fat, 23 g carbohydrates, 1 g fiber, and 66 mg sodium.
This dish is gluten-free and gout-friendly.