Understanding Occupational Therapy
Category: Living Well
Posted On:
Written By:

Megan O'Neill, Occupational Therapist
Imagine waking up in the hospital after an accident and finding that, due to your injuries, you can't lift your arm or put weight on your leg. Now think about all of the everyday tasks you do, like tying your shoes, brushing your teeth, or walking across a room. You were independent and working before but now you might now have to use adaptive equipment such as a rolling walker or a transfer tub bench to perform your daily activities.
The human body has an enormous capacity for healing from everything from minor scratches to major trauma. In the case of serious injuries, full recovery often takes an extended period of rehabilitation.
That's where professionals like occupational therapists come in. Occupational therapy helps people to do the things they want and need to do through the therapeutic use of daily activities (occupations). Occupational therapy practitioners enable people of all ages to live life to its fullest following injury, illness, or disability.
Although occupational therapy can address return to work, there is so much more we can offer.
For adults following an accident, occupational therapy maximizes independence and safety in completing activities of daily living.
For children, occupational therapy can facilitate a learning environment to maximize social participation and progress in school.
For seniors, we can perform home assessments to assist with a person aging in their own home safely. This could potentially prevent the person from having to move to a nursing home and avoid injury due to an unsafe living environment.
In a hospital setting, occupational therapy determines whether you would benefit the most from inpatient rehabilitation, outpatient therapy, home health, skilled nursing facility, nursing home placement, or returning home depending on your activity tolerance and level of function.
In order to receive occupational therapy services, you will first need a referral. Occupational therapy services typically include:
An individualized evaluation, during which the client/family and occupational therapist determine the person's goals,
Customized intervention to improve the person's ability to perform daily activities and reach the goals, and
An outcomes evaluation to ensure that the goals are being met and/or make changes to the intervention plan.
Occupational therapy allows people across the lifespan and in a range of settings to do the activities they want and need to do. If you think you or a family member might benefit from services, ask your physician about a referral for occupational therapy services or speak with your child's teacher about services available at school. For more information about occupational therapy, visit www.aota.org.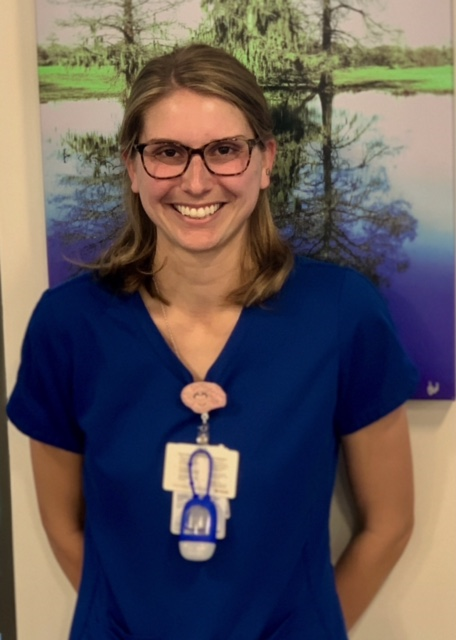 Megan O'Neill, MOT, LOTR, is an Occupational Therapist here at University Medical Center