Calming maternal fears over the COVID-19 vaccine
Category: Living Well
Posted On:
Written By:

Robert T. Maupin, Jr., MD
As an OBGYN and high-risk pregnancy specialist at University Medical Center, I often talk to expectant moms about the stress that occurs as they go through their pregnancy. Under normal circumstances, there are many anxious moments; now, add to that the ongoing pandemic and stress levels have increased substantially.
One topic that is generating many questions is the COVID-19 vaccine and whether expected moms and women of child-bearing age should get vaccinated. As a specialist, I encourage everyone to get vaccinated, especially pregnant women who are at a greater risk of severe symptoms if infected with COVID-19.
Fact vs. fiction when it comes to COVID-19 vaccines and pregnancy
One of the medical community's biggest challenges today is making sure patients receive accurate information about the COVID-19 vaccine. As reported now for weeks, Louisiana has the third-lowest rate in the nation of fully vaccinated people, and right now, those who are not fully vaccinated are paying a high price.
The COVID-19 delta variant has dramatically spiked in our area, putting the health of thousands of people in the area, including pregnant mothers, at risk with this latest surge. Despite that news, many residents won't get vaccinated. Understandably, the hesitancy is partially due to all the rumors floating around about the vaccine, especially when it comes to pregnant women or women who wish to become pregnant. The question is should these women take the vaccine? As a maternal health specialist who has researched the topic at length, the simple answer is yes, and for many reasons.
Studies have shown that unvaccinated pregnant women are at high risk for severe cases and worse outcomes if infected with COVID-19. Regarding race and ethnicity African American and Hispanic mothers run an increased risk for dangerous outcomes, including death. When it comes to concerns about the vaccine, I get asked many questions, but there are three that come up often in my conversations:
Is it safe to receive the vaccine during pregnancy?
Recent studies with preliminary information have shown that there were no major safety issues for pregnant women and that side effects were no different for expectant moms than those women who were not pregnant.
Does getting the COVID-19 vaccine while pregnant, impact the baby?
To date, there are no reports of adverse impacts on a fetus if the mother takes the vaccine; there are, however, studies that show benefits for the baby. When developing in the womb, a baby's immune system is the last thing to fully develop, so it must acquire protection from other sources. One of those sources is mother's milk, and if the mom is vaccinated, some of the antibodies generated by the vaccine, the protein that is produced to fight the virus, will pass on to the baby.
Does the vaccine affect fertility?
There is currently no evidence that the COVID-19 vaccine results in any pregnancy issues, including problems with either female or male fertility. So, if you are trying to get pregnant, it is safe to take the vaccine.
Whether you are a man or a woman, I encourage you to speak to your doctor to address your concerns if you have not gotten vaccinated. It's going to take all of us doing our part to end this pandemic and getting vaccinated, wearing a mask, and continuing with social distancing are steps we can all take to try and get this latest COVID-19 surge under control so we can all get back to living our lives as normal.
Just the facts about the COVID-19 vaccine
Information overload is a real thing, and for many people, figuring out what to and not to believe has been challenging when it comes to the vaccine, so hopefully, the information below will ease some apprehension for those still debating on whether to get vaccinated:
While the vaccine was developed quickly, it was based on years of established research.
The rapid progress on a COVID-19 vaccine was the result of years of previous research on related viruses and faster ways to make vaccines and unprecedented collaboration by the scientific community. For the first time ever, all phases of drug trials overlapped, which was accelerated the process so manufacturers could get it to the market much quicker than usual.
The COVID-19 vaccine will not give you COVID-19.
Unlike some other vaccines, the COVID-19 vaccine works differently; it does not contain the live virus; therefore, you can't get COVID-19 from the vaccine. The vaccine works by teaching the immune system to respond to a potential infection so it can fight the infection quickly. No vaccine is 100% effective but getting a COVID-19 vaccine can help protect you from experiencing serious symptoms from the virus and avoid hospitalization.
The COVID-19 vaccine will not edit or change your DNA.
The COVID-19 vaccine does not change or interact with your DNA in any way. It only teaches our cells how to make a protein that triggers an immune response. The COVID-19 vaccine never enters the nucleus of the cell, which is where our DNA is kept.
The vaccine can protect you, even if you've had COVID-19.
It is recommended that if you had COVID-19, you wait three months to get the vaccine as your body has built up natural immunity to the virus. However, there is no guarantee on how long immunity lasts after that period, so you could be re-infected if not vaccinated.
To learn more about the COVID-19 vaccine and to make an appointment, visit lcmchealth.org/coronavirus/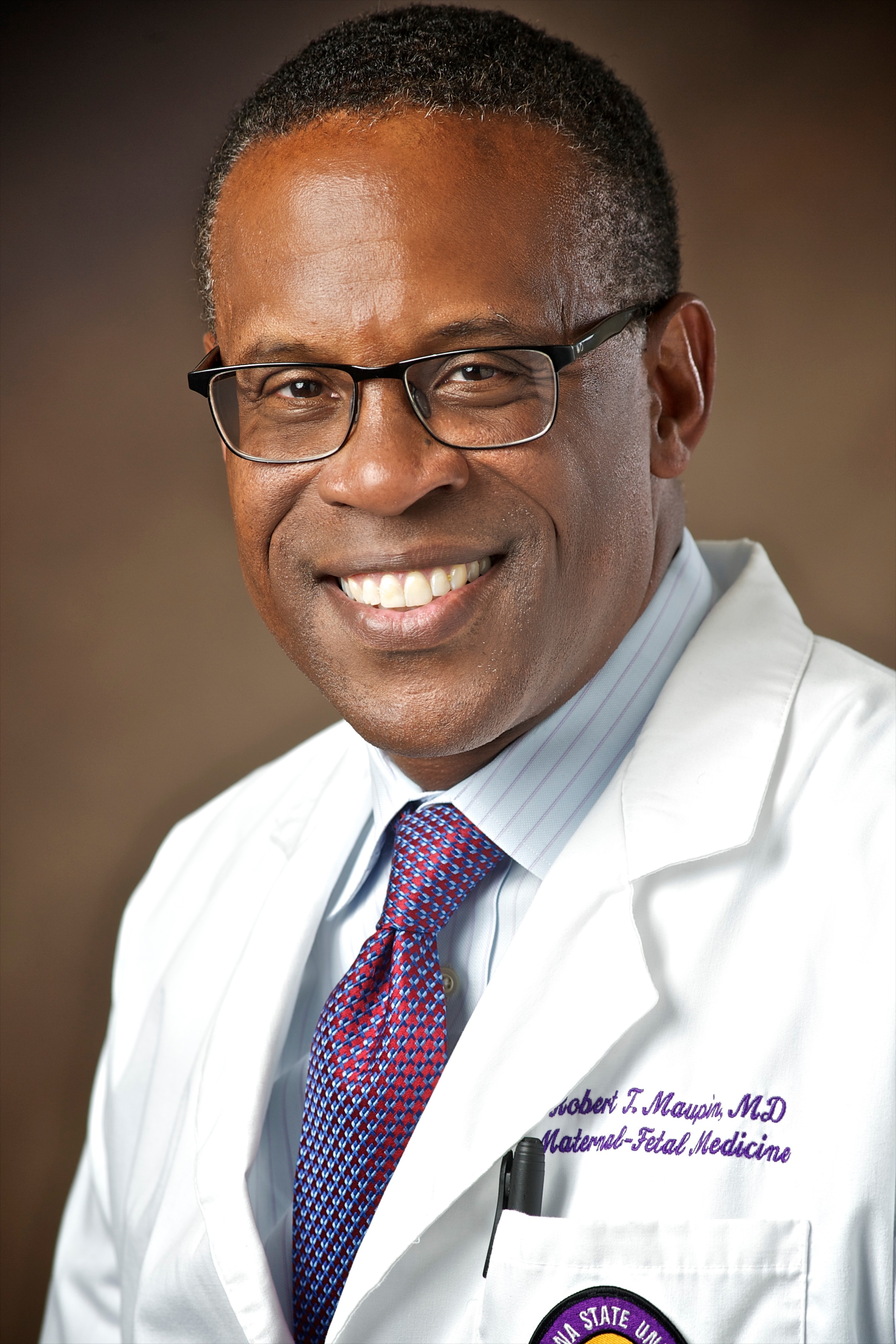 Description automatically generated with low confidence. ​Dr. Maupin has been a physician in the LSU Health Maternal-Fetal Medicine Division for over 20 years and holds appointments as Professor of Clinical Obstetrics & Gynecology, Endowed Warren C. Plauche' Professor of Maternal-Fetal Medicine at the LSU Health Sciences Center, and Associate Dean of Diversity & Community Engagement. Presently he is the Clinical Section Head of LSU's Maternal-Fetal Medicine Division. He is originally a native of Washington DC and an alumnus of the University Maryland Medical School. He completed residency training in OB/GYN with LSU, New Orleans at Charity Hospital, and Maternal-Fetal Medicine fellowship at University Maryland Medical Center. Nationally he has served as a consultant panel member of the US Public Health Service Perinatal HIV Guidelines Working Group and has been a consultant for the CDC Division of HIV/AIDS Prevention. He has participated as an author in over several dozen peer-review publications, presented abstracts and book chapters. Regionally, he serves as a member of the Louisiana Covid-19 Health Equity Taskforce, the Louisiana Pregnancy Assoc. Mortality Review Committee and the Governor's Health Mom's Health Babies Advisory council works to advance equity in Perinatal care. As a clinician, he specializes in advanced obstetric ultrasound imaging, prenatal diagnosis, and the management of medical co-morbidities and infectious diseases during pregnancy.