2nd Annual Pink Dress Golf Classic Raises Funds for Preventive Care at West Jefferson
Among women in the United States, breast cancer is the most commonly diagnosed cancer and the second leading cause of cancer death. Thanks to a generous gift from the Gretna Economic Development Association (GEDA), the Women's Imaging Center at West Jefferson Medical Center (West Jefferson) is able to help women in our community beat the odds by receiving preventive care that is critical for early intervention.
On October 12, 2019, GEDA hosted their second annual Pink Dress Golf Classic at Timberlane Country Club to support breast cancer care. Players and volunteers dressed in pink tutus, kilts and other creative pink attire joined forces to spend the day raising funds for breast cancer preventive care. Following the tournament, participants and guests enjoyed great food catered by Café Hope, lively music by Soul Express, a silent auction, and other fundraising activities. Kevin Avery, director of GEDA said, "What a wonderful tournament for such a great cause! It was such a joy seeing everyone coming together though a round of golf to raise money to touch lives. On top of it all we had a $10,000 Hole-In-One winner at the tournament. I truly look forward to next year being even a bigger tournament to impact this much needed awareness."
Thanks to their efforts and other fundraising associated with the Pink Dress Golf Classic, the West Jefferson Hospital Foundation was presented a check for $12,000. These funds will be used to provide women who have financial challenges the ability to receive mammograms and other diagnostic services at West Jefferson's Women's Imaging Center. These funds will help save lives!
"With this generous donation, our Women's Imaging Center will be able to provide preventive and follow up care for our disadvantaged patients. We are proud to call GEDA a partner in women's health and breast cancer screening," said Jeff Edge, Vice President of Operations at West Jefferson.
Finding breast cancer early and getting cancer treatment are the most important strategies to prevent deaths from breast cancer. Preventive care and early detection through imaging testing is the most reliable way to find breast cancer early. Providing funding for patients who might not have the ability to seek preventive care due to financial constraints is critical to early intervention. "With this generous donation, our Women's Imaging Center will be able to provide preventive and follow-up care for our disadvantaged patients. As access to care is a priority, the funds for mammograms and breast ultrasounds eliminates the financial burden many patients in our community experience," said Barbara Loisel, breast navigator for West Jefferson's Women's Imaging Center.
Visit Women's Imaging Center's website to learn more about preventive care. Click here if you would like to support the mission of West Jefferson Medical Center by contributing to West Jefferson Hospital Foundation.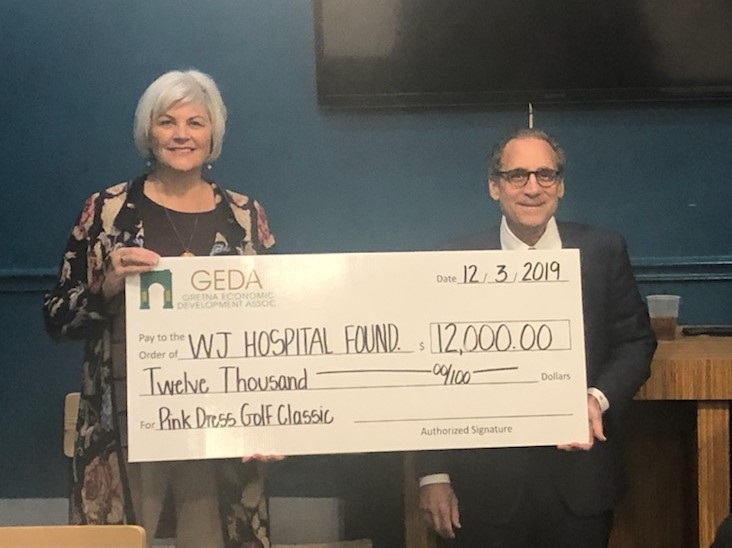 President Mark Middleton, GEDA presents a check to Executive Director Susan Trantham, WJ Hospital Foundation at their recent Installation of Officers meeting.