Designing Your Exercise Routine
Category: Living Well
Posted On:
Written By:

Julie LeBlanc, Fitness Center Trainer
Designing your exercise routine can be easy. First, what is your goal? If you want to gain strength and size, weight lifting heavier weights at low repetitions is recommended. This heavy lifting, however, is not recommended for people with high blood pressure. Medium to heavy lifting is recommended for people with diabetes. If you have high blood pressure or heart issues, steady, slow-to-medium-paced cardiovascular exercise and light weight lifting is best. If there are other limitations associated with your knees, back, hips, etc., it is important to consult your physician and/or fitness trainer prior to working out. The good news is, there are many ways to work out safely! Below are a few examples.
Cardiovascular exercise, or cardio, is exercise that strengthens the heart muscle (such as treadmill, bike, pool, line dancing). Cardio helps people lose weight. It also can lower your blood pressure over time.
Toning is lifting weights slowly at high repetitions with low-to-medium weight. Toning helps one lose fat while building muscle. It is important to note that one would not want to lift weights with the same muscle group every day. This gives the muscles time to recover.
Recovery time, or rest time, is just as important as workout time because when we work out we actually break muscles down. It takes a good amount of sleep, rest and good nutrition to build muscle and increase stamina.
The best workout for someone wanting to lose fat and build muscle would be a combination of cardio and weight lifting. This can be done with machines or classes. Classes such as Pilates and Yoga are wonderful because they strengthen your muscles while stretching them, thus allowing for proper posture and balance. At West Jeff Fitness Centers, we over 100 classes to choose from.
It's important to design a workout with different exercises at least every other day, if not every two days. An example of this would be:
Monday/Wednesday/Friday: Weights and Cardio machines
Tuesday: Yoga
Thursday: Aqua-size
Choosing machines to use or classes to take is the most important part of designing your workout because it can help prevent injury and/or setbacks to reaching your goals. For example, if you have had a hip or knee replacement, dependent on your flexibility after rehab, you may not be able to do the full turn on the bicycle. At West Jeff Fitness Centers, we have rehab-type machines that allow you to exercise safely after graduating from rehab. We also have Aqua-size, or pool class, which put less pressure on your joints. This is especially good for people with arthritis and knee/back/hip problems.
At West Jeff Fitness Centers, we can find a way to help you work out and reach your goals by prescribing an exercise plan specific to you. Come by for a tour today or call 349-6164 for more information!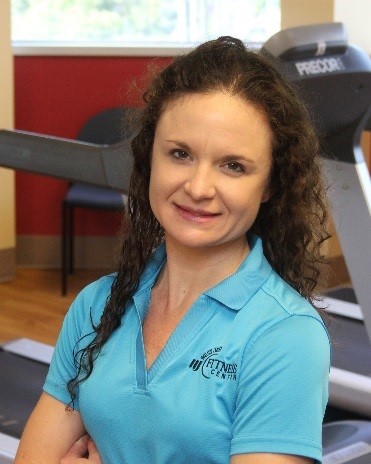 About Julie LeBlanc
After working in education from 1999 to 2013, Julie was excited to join the West Jeff Fitness Center Team in Marrero. She taught Fitness for Life, Lifetime Wellness, Weight Lifting and Jogging while coaching, training and recruiting softball players at Southeastern Louisiana, LaTech, Lees McRae College and Campbell University. She also has experience in basketball and strength/conditioning training at the high school and middle school levels, worked summer camps for the Fellowship of Christina Athletes and taught Lifeguarding for the Boy Scouts of America. Additionally, she personal trained clients of all ages/fitness levels at centers in the Atlanta area and Hammond, LA.
While getting her Master's Degree in Health, Physical Education and Recreation from Delta State University, she led group classes for the retired population and taught swimming lessons for children. Julie has an undergraduate degree from Florida State University in Communication Studies. Her fitness passion includes incorporating core, posture and balance into every workout. Julie greatly values nutrition and is a certified Pre-Diabetes Lifestyle Coach. She teaches Abs Class and Boot Camp for Baby Boomers while personal training clients on land and in the pool.
OUR LOCATIONS:
West Jeff Fitness Center (Marrero)
1121 Medical Center Blvd.
Marrero, LA 70072
West Jeff Fitness Center (Terrytown)
175 Hector Ave.
Terrytown, LA 70056