Marrero Lions Club Supports West Jefferson with "Cleaning Day" at the Care House
Thanks to many members of the Marrero Lions Club, the Care House shines brighter! On September 14, members of the Marrero Lions Club volunteered to spruce up the Care House with a day of heavy-duty cleaning. A special thanks goes to Aramark Environmental Services for donating the cleaning supplies and equipment. The Marrero Lions Club also donated a large supply of toiletry gift bags for guests of the Care House.
The Care House, a fully furnished three-bedroom home is made available to benefit families whose loved ones are being cared for in the critical care nursing units at West Jefferson Medical Center (West Jefferson). It gives them a comfortable place to stay near the hospital while they wait for their loved ones to recover, compliments of the West Jefferson Hospital Foundation.
The West Jefferson Hospital Foundation accepts financial support and donations of household items to support the upkeep and operating expenses of the Care House to provide a comfortable environment for family members who live distant from West Jefferson.
If you would like to learn more about the Care House and join us in providing this very special home for families needing a nearby respite for families during some of life's most difficult times, visit wjmc.org/foundation or call the Foundation at 504-349-6663.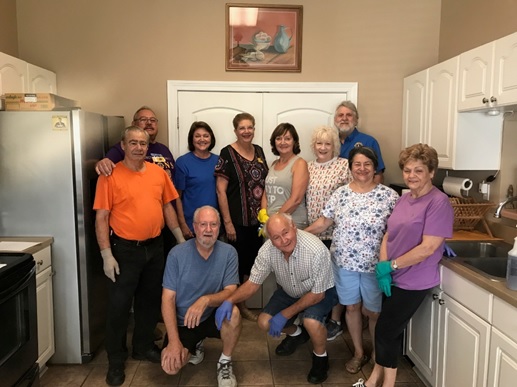 Pictured are members of the Marrero Lions Club volunteer at the Care House operated by the West Jefferson Hospital Foundation.