Cardiology, Vascular Surgery and Chest Pain Center - New Orleans
West Jefferson Medical Center was the first hospital in the region to offer 24/7 Emergency Room care and continues to mark firsts in advances in the care of patients with heart and vascular diseases. From new wireless technology in WJMC ambulances in the field to the Emergency Department staffed by board certified Emergency Room Physicians, to a state of the art catheterization laboratory and sophisticated diagnostic imaging such as a 64-Slice Cardiac CT Scanner, West Jefferson Medical Center is poised to provide the latest in cardiovascular care in the chest pain center. New Orleans area patients can receive medical and surgical treatments at West Jefferson for heart and vascular conditions. Cardiologists and cardiovascular surgeons and other specialists are respected in the region and known nationally.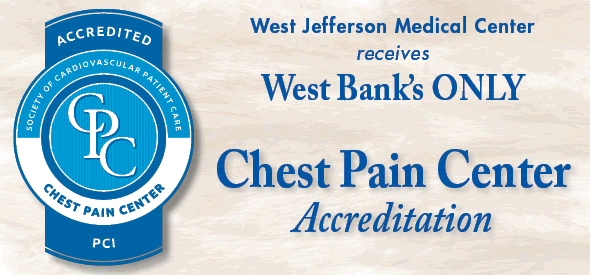 West Jeff recently was awarded a Get with the Guidelines® – Heart Failure Gold Quality Achievement Award from the American Heart Association/American College of Cardiology, Mission: Lifeline® EMS Recognition Gold Award for Treating Severe Heart Attacks from the American Heart Association, Top Performer on Key Quality Measures for Heart Attacks from The Joint Commission and Chest Pain Center with Accreditation through the Society of Chest Pain Centers. Members of the Medical Staff also serve on American Heart Association local and national committees and task forces.
For an experienced and trusted cardiologist, New Orleans can depend on the team at West Jefferson Medical Center, which has the technology, compassion, and education to care for all of any cardiovascular condition.
For questions, please contact us at 504.349.6645.