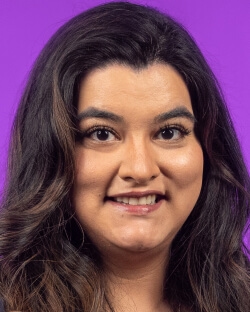 Offers Phone/Video Appointments
Acerca de la Dra. Sotres
Me especializo en atención primaria. Me convertí en profesional de la salud porque vi lo importante que es la atención preventiva. A mis padres se les diagnosticó cáncer en fase inicial durante sus visitas anuales con sus médicos de atención primaria. Quiero mantener a mis pacientes lo más sanos posible para que puedan disfrutar de una vida sana y feliz junto a sus seres queridos, al igual que mis padres.
Mis pacientes pueden contar conmigo para que les proporcione una atención extraordinaria porque estuve del otro lado de la relación médico-paciente y sé lo importante que es tener un proveedor compasivo y comprensivo en el que pueda confiar y saber que está de su lado para mantenerlo lo más sano posible o para abordar cualquier problema médico que pueda tener.
Mi toque extra
Me encanta mantener vivas mis tradiciones hispanas. Me gusta bordar, hacer crochet, cocinar, bailar danzas latinas, etc. También me gusta viajar y conocer otras culturas.
Affiliations
West Jefferson Medical Center
Existing patient: If you are an existing patient of this provider, you will need to log in to the patient portal to schedule your appointment.
New patient: If you are a new patient, start by answering the questions below.