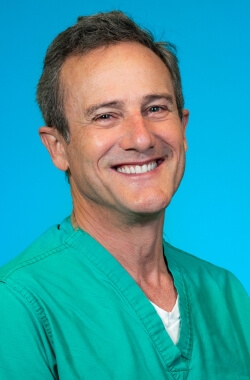 About Dr. Puente
Dr. Puente was born in Havana, Cuba and the story about how he arrived in the United States is one for the history books. In 1961, with his parents already in the United States, a two-year-old Dr. Puente was placed on the last "freedom flight" out of Cuba. When the plane landed in Miami, young Michael Puente was placed into the arms of his mother. Dr. Puente completed his undergraduate studies at Tulane University and graduated Cum Laude and Phi Beta Kappa.
As a leading neurologist in the region, Dr. Puente focuses on all aspects of his patient's health, including diet, which he says plays a large role in health issues we face today, especially when it comes to stroke. Dr. Puente points to unhealthy foods, like creamy sauces, fried and fatty foods, and the high rate of cigarette smoking as major concerns when it comes to health. In addition to his interest in general neurology, Dr. Puente is board certified in neurology, also focuses on vascular disease, and is involved in various clinical studies for the treatment of stroke.
His Specialties include Stroke, Migraines & Headaches, Neuromuscular Disorders, Memory Disorders, and Seizure.
Affiliations
West Jefferson Medical Center,
East Jefferson General Hospital
Education and Experience
Medical School
Tulane University School of Medicine New Orleans, LA
1984
Residency
The University of Texas Southwestern Medical Center Dallas, TX
1988
Board Certification
Neurology - American Board of Psychiatry & Neurology