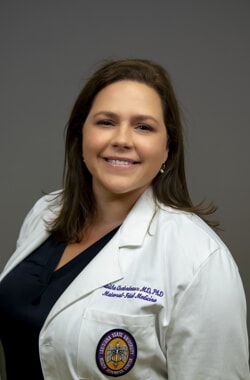 About Dr. Quebedeaux
Dr. Quebedeaux was born and raised on the Westbank of New Orleans. After completing her undergraduate studies at Loyola University - New Orleans, she continued her undergraduate research in Neuroscience at Tulane University. She went on to complete a MD/PhD program at LSUHSC-New Orleans. Her PhD thesis work, which focused on epileptogenesis, or the development of epilepsy, had a strong influence on her developing long-term research interests. In particular, the influence of the in utero environment on fetal neurodevelopment stood out as an amazing field of medicine that blended her love of Neuroscience and Perinatology. Ultimately, she decided to pursue a career in Maternal Fetal Medicine to care for the high-risk obstetric population while simultaneously continuing basic science research.
She completed a MFM fellowship at the University of Maryland School of Medicine, whose Obstetric Care Unit serves as the central hub for Shock Trauma and the entire University of Maryland network. This opportunity provided extensive exposure to critically ill pregnant patients, complex fetal congenital disease and multifaceted obstetrical surgical cases, including placenta accreta spectrum disorder. She has now joined the LCMC MFM team with the overall goal of identifying ways to continuously improve obstetrical care in the New Orleans area. Her specific clinical interests include maternal congenital or acquired heart disease, morbid obesity, abnormal placentation, fetal growth restriction and hypertensive disorders of pregnancy. Her long-term goals include building a perinatal research center investigating the impact of abnormal placentation on fetal neurodevelopment and neonatal neurological outcomes.
Affiliations
Touro,
University Medical Center New Orleans,
West Jefferson Medical Center,
East Jefferson General Hospital
Education and Experience
Medical School
Louisiana Health Science Center New Orleans New Orleans, LA
2013
Residency
LSU School of Medicine New Orleans, LA
2017
Fellowship
University of Maryland Baltimore, MD
2020
Board Certification
Maternal-Fetal Medicine - American Board of Obstetrics & Gynecology
Obstetrics & Gynecology - American Board of Obstetrics & Gynecology