Understand Gynecologic Cancers
Category: Living Well
Posted On:
Written By:

Navya Nair, MD
While breast cancer is the most prevalent cancer among women in the United States, it is not the only cancer that affects women. Cancer formed in a woman's reproductive organs is known as gynecologic cancer. Like many medical issues, it can go undetected due to a lack of symptoms in the early stages. It is essential for women to get an annual exam, as doctors can pick up on issues and run tests to make sure a women's reproductive organs are healthy and disease-free.
Gynecologic cancers impact nearly 90,000 women yearly
Gynecologic cancers include all cancers that start in the reproductive organs:
Cervical cancer: begins in the cervix or the lower part of the uterus or womb
Ovarian and fallopian tube cancer: begins in the ovaries/fallopian tubes, which are located on each side of the uterus
Uterine cancer: starts in the uterus or womb
Vaginal cancer: starts in the vagina, a hollow tube-like channel between the uterus and the outside of the body; it's also referred to as the birth canal.
Vulvar cancer: begins in the vulva or the outer part of the female genital organs
The most common gynecologic cancer is, uterine cancer, also known as endometrial cancer. It impacts women of all races. According to the Centers for Disease Control and Prevention (CDC), between 2012-2016, research showed that uterine cancer incidence rates were:
27.16 per 100,000 white women
26.37 per 100,000 African-American women
23.42 per 100,000 Hispanic women
27.10 per 100,000 non-Hispanic women
American Indian/Alaskan Native and Asian/Pacific Islander women were noted to have lower incidences 19.03 per 100,000 and 17.06 per 100,000 respectively.
When it comes to risk factors, there are a few common factors regardless of race that can be pointed to that increases a women's chance of getting uterine cancer:
Age: the average age of diagnosis is in the early 60s, and risk increases as a woman ages
Weight: women who are obese are more at risk than women of normal weight
Menopausal hormone therapy: using estrogen alone, without progesterone, can lead to endometrial cancer in women who still have a uterus
Hereditary cancer syndromes: there are certain inherited genetic syndromes like Lynch syndrome that increase a woman's risk of uterine cancer
What to watch for: symptoms of gynecological cancer
Gynecologic cancer can go undetected until there are noticeable symptoms, and those symptoms vary depending on the form of gynecologic cancer:
Cervical cancer:
Heavy menstrual bleeding
Abundant vaginal fluid with streaks of blood
Bleeding after sexual intercourse
Abdominal pain and lower back discomfort
Ovarian cancer
Abdominal discomfort that mimics indigestion
Pelvic pain
Anemia and weight loss
Loss of appetite
Fatigue
Bloating
Uterine cancer
Bleeding while not menstruating
Abundant vaginal discharge with blood
Bleeding after sexual intercourse
Vaginal cancer
Bleeding not related to menstruation
Back or pelvic pain
Pain when urinating
Vulvar cancer
Lumps or small masses, like warts on the vulva
Itching and discomfort in the vulva and surrounding areas
Bleeding not related to menstruation
There are many factors that can be attributed to a woman getting a form of gynecological cancer, which is why women should get annual exams as these forms of cancer can be found during an exam. Preventative medicine is the best medicine with it comes to gynecological cancer.
Schedule your annual women's health exam by calling us today at 504.702.3928. Click here to learn more about Women's Health Care at University Medical Center New Orleans .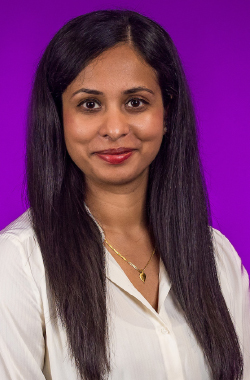 Dr. Navya Nair is a double board-certified gynecologic oncologist and obstetrician-gynecologist at University Medical Center and is an Assistant Professor of Gynecologic Oncology at Louisiana State University New Orleans. She cares for women across the state of Louisiana with gynecologic cancers. She is committed to removing healthcare disparities and is a champion for equitable care for all patients. She serves as a leader in national and international gynecologic oncology societies. She is the incoming Vice-Chair for the Society of Gynecologic Oncology's Diversity, Inclusion, and Health Equity Committee and is an Early Career Research & Publications Network Mentor for the International Gynecologic Cancer Society.