You Help When It's Needed Most
Through individual gifts, grants and corporate kindness, this past year, you helped us begin new Wellness Initiatives like our Compassion Cart and Schwartz Rounds and expand our community impact with our Overdose Rescue Pak program and Medication Bridge financial assistance! You are helping lay a solid foundation of support for those in our care and continuing our nearly 300 year legacy of promoting health and wellness, caring for those marginalized by societal inequities… and standing tall during adversity.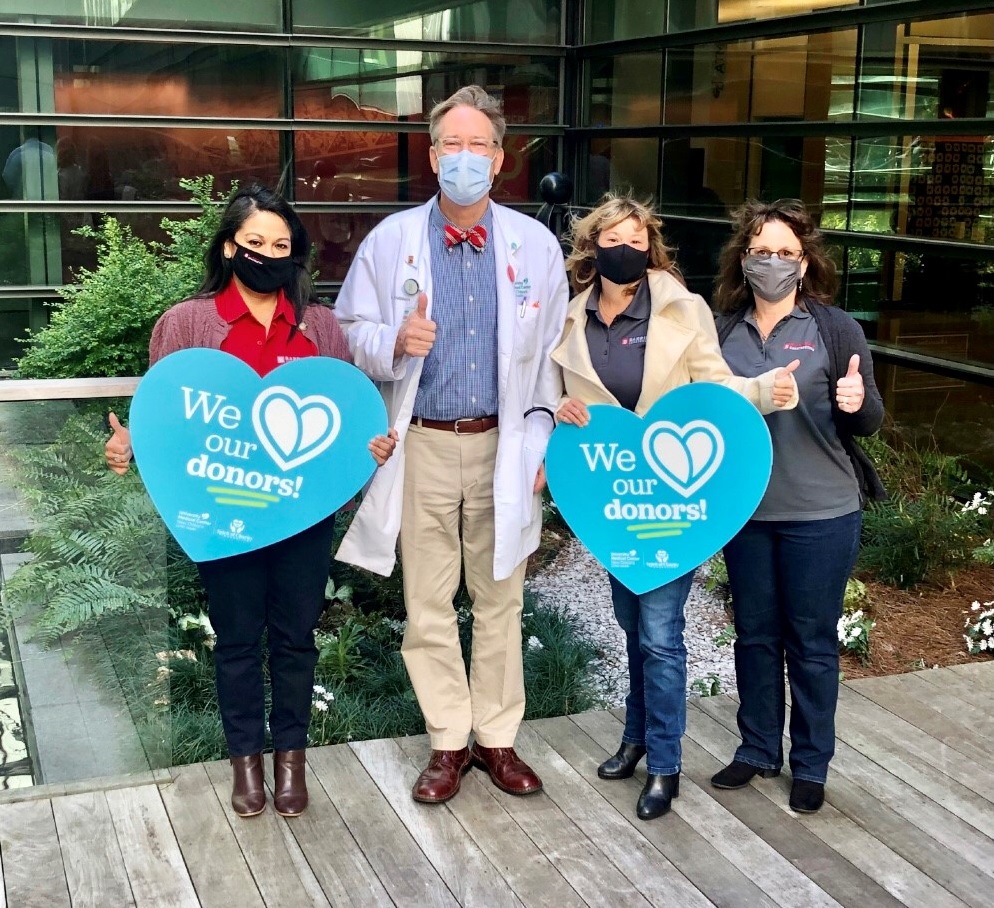 Nonprofit Tax ID #: 72-1251751
Donate by mail:
Spirit of Charity Foundation
University Medical Center New Orleans
2000 Canal Street
New Orleans, LA 70112
Ways to give
Unrestricted giving
You can donate TODAY to help friends and family in your community when they need the care the most! Unrestricted gifts are impactful and can be made in any of the following ways. You may also direct your gift to any of the restricted funds listed under the Programs tab.
Honor & memorial giving
Your honorariums are a great way to pay tribute to someone special. You can acknowledge their courage, celebrate a birthday, or an important milestone. Memorials can help celebrate the wonderful memory of a loved one. A personalized notification of your gift is sent to all the respective parties and gift amounts are not shared.
Monetary & recurring gifts
Your cash or online donations immediately improve the lives of friends, family and neighbors in our community and throughout our region. Recurring gifts also help by saving staff time and allow us to anticipate our areas of greatest need throughout the year.
Annual giving
Your giving to the annual campaign strengthens and sustains our programs. These unrestricted gifts provide the resources needed to undertake new initiatives and maintain our existing programs.
All staff and physicians can participate by making a one time or recurring gift and LCMC Health employees can even sign up for payroll deduction. Your donations support vital Foundation program and services that impact you daily.
Matching gifts
Many companies offer matching gift programs. Most of these programs match contributions dollar for dollar and some will even double or triple the amount of your gift! Find out if your company will match gifts. Our EIN# is 72-1251751.
Corporate & Foundation giving
You can partner with us in many ways. From matching gifts, volunteer grants, community grants, payroll deductions, in-kind gifts, internal employee fundraising and so much more. Contact us for additional ideas or reach out to us with yours.
Donor-Advised funds
You can designate the Spirit of Charity Foundation as a beneficiary of your external DAF to support the SOCF program or service of your choice that you would like to impact. Visit DafDirect.org for more details.
Planned & estate gifts
You can extend your support to make a lasting impact? Whether you would like to put your donation to work today or benefit us after your lifetime, you can find a charitable plan that lets you provide for your family and support our mission. For inquiries, please email SOCFoundation@lcmchealth.org. Always seek advice from your financial or legal advisor and if you include us in your plans, our federal tax ID is 72-1251751.
Stocks & securities
Your stock gift can benefit everyone involved. Those in need receive the support and you can avoid or lessen the impact of certain taxes. To complete a transfer of stock please contact our team for details.
Online & community fundraising
You can raise donations on Facebook or other crowdfunding options. Host a dine out event or give a percentage of sales for a service/product. You can set up a dedicated page to share our story and rally around a fundraising goal. Be creative and contact us with details.
Amazon
You can shop at www.smile.amazon.com and support our mission! AmazonSmile is the same Amazon you know. Amazon will donate 0.5% of the price of your eligible AmazonSmile purchases to the Foundation.

RESTRICTED GIVING FUNDS
Your tax-deductible gift will help bring our life-changing programs to more in our community! To maximize funding, when support received is over and above the budget of the solicited purpose or the funding need is no longer warranted, the Spirit of Charity reserves the right to utilize funding towards the Foundation area of greatest need.