RECIPE: Curried Chickpea Salad Sandwich
Did you know chickpeas can help with weight management, healthy digestion, and lowering the risk of heart disease, cancer, and diabetes? They are also nutrient-dense, meaning they are low in calories but also provide nutrients like protein, iron, potassium, manganese, folate, and fiber. Their low glycemic index and high protein and fiber content contribute to their ability to help manage and lower blood sugar levels and increase satiety.
Chickpeas are also very convenient and budget-friendly. You can add them to soups, dips, sandwiches, and salads. They can also be roasted for a crunchy snack! Whichever way you chose to enjoy them, their texture and protein content help in making them a great meat alternative!
In this sandwich, we are combining some bold spices such as turmeric, curry powder, garam masala, and cinnamon which have anti-inflammatory properties. We balance out these flavors with the tang of Greek yogurt and lemon juice and we add a layer of sweetness by adding pears and a drizzle of honey! The crunch comes from adding fresh bell peppers, carrots, onion, and peanuts! It is a perfect no heat-required recipe for these hot days!
Ingredients:
1 15oz can chickpeas, drained
3 T non-fat Greek yogurt
1 T turmeric
1 T garam masala
1 T cinnamon
1 T curry powder
1/2 t ginger
1/2 t cayenne pepper
1 lemon, juiced
1 carrot, diced
1/2 onion, diced
1/2 bell pepper, diced
1 pear, diced
1 T honey
parsley as garnish
2 T peanuts or nut of choice (optional)
Black pepper to taste
Directions:
In a large bowl, combine drained chickpeas, Greek yogurt, and half of the following spices: turmeric, garam masala, cinnamon, and curry powder.
Using a fork or masher, mash the chickpeas and combine the Greek yogurt together. The chickpeas should be smashed, yet not entirely smooth. (Think similar chucks to any chicken or egg salad recipe)
Add your vegetables and combine.
In a small bowl, combine your pear, remaining spices, lemon juice, and honey.
Add the spiced pears to the chickpea mixture and combine.
Garnish with chopped parsley, peanuts, and black pepper to taste.
Serve on whole-wheat pita, naan, or bread of choice with some mixed greens, tomato, and avocado. I also it with crackers or on a bed of lettuce!
Variation alternatives:
Although I chose to use carrots, bell peppers, and pears for this recipe, the variations to this recipe really are limitless. Start with the chickpea and Greek yogurt foundation and then play with the spices, fruit, and vegetables. Here are some great examples!
Vegetables: celery, red onion, green onion, bell peppers, broccoli, etc.
Fruit: Apples, raisins, blueberries, grapes, peaches, etc.
Spices: red pepper flakes, paprika, rosemary, sage, oregano, cumin, Dijon mustard, etc.
Nuts: pecans, sunflower seeds, almonds, cashews, etc.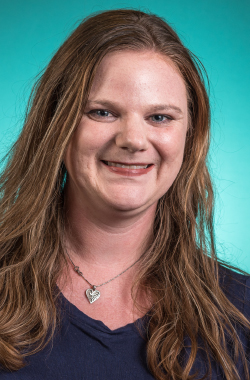 About Devin Brittain:
Devin is a Registered Dietitian and Licensed Dietitian Nutritionist in the state of Louisiana. Born and raised in California, Devin obtained her Bachelors of Science in Food and Nutritional Sciences with an emphasis in Dietetics and Food Administration from California State University, Fresno. She then moved to Louisiana and completed her Dietetic Internship at Tulane's School of Public Health and Tropical Medicine. Devin is currently the Outpatient Dietitian for the Cancer Center at West Jefferson Medical Center where she assists patients and teaches healthy cooking classes. She is serving on the board for the New Orleans Dietetic Association where she strongly advocates for the dietetic profession and the health of her community. In her free time, Devin enjoys attending festivals, reading, developing recipes, dancing, and cheering on the Saints! She is passionate about utilizing her food and nutrition knowledge to benefit others and believes in finding innovative ways to encourage a healthy lifestyle that works for each individual.