Boring black-eyed peas and cabbage? New ways to cook these New Year's Day dishes
Why do we eat black-eyed peas and cabbage on New Year's Day? Folklore has us believe eating peas and greens will bring health and prosperity during the new year.
Luckily, both cabbage and black-eyed peas offer nutritional value to our bodies given their high amounts of fiber and protein and low to no amounts of trans fats.
And because we're all hoping 2021 will be unlike 2020, here are two twists on the traditional New Year's Day dishes:
Texas Caviar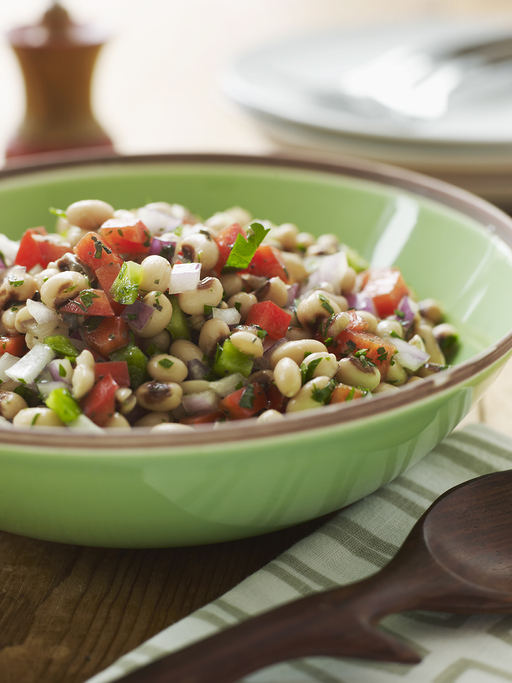 black-eyed pea dish New Year's Day
Ingredients
1 15.8-ounce can black-eyed peas
1/2 cup diced red onion
1/4 cup diced green pepper
1 clove garlic, minced
2 tablespoons vinegar
1 tablespoon extra-virgin olive oil
1/2 cup chopped fresh cilantro
Directions
Drain and rinse the black-eyed peas. Add red onion, green pepper, and minced garlic and stir. Combine vinegar and oil and pour over vegetables. Add cilantro and toss gently. Refrigerate overnight to chill and let flavors blend.
Nutritional information
Each 1/2-cup serving contains about 115 calories, 3 g fat (5 g saturated fat, 0 g trans fat, 0 mg cholesterol), 430 mg sodium, 16 g carbohydrates, 3 g dietary fiber, 1 g sugars, and 5 g protein.
Stuffed Cabbage Soup
Ingredients
1/2 lb. ground round beef (can substitute ground turkey)
1 tsp. olive oil
1-1/2 cups sliced onion
3 garlic cloves, crushed
2 cups shredded cabbage
28-oz. can petite diced tomatoes, low sodium
14-oz. can low-sodium beef broth
3 cups water
2 tbsp. fresh or dried parsley
3 cups cooked brown rice or other grain, such as barley or millet
Directions
Brown meat in a soup pot. Drain fat if necessary. Add olive oil, then onions and garlic, and sauté briefly. Add shredded cabbage and continue stirring. Add tomatoes, beef broth, and water. Bring to boil. Reduce heat and let cook for about 10 minutes on simmer. Sprinkle in parsley.
To serve, put half a cup of cooked brown rice or other grain of your choice (barley, millet, quinoa) into a large bowl. Ladle stuffed cabbage soup over grain. Serve.
Makes 6 servings
Each serving contains about 232 calories, 6 g fat (2 g saturated fat, no trans fat), 22 mg cholesterol, 369 mg sodium, 34 g carbohydrate, 4 g dietary fiber, 7 g sugars, and 12 g protein.