Meet the pups of LCMC Health
Category: News
Posted on:
They bring smiles with their kisses and wags of their tails. Learn more about the pups of LCMC Health.
We also want to meet your furry friends. Share a selfie of yourself with your pup on March 23 to celebrate National Puppy Day. Tag @LCMCHealth, #NationalPuppyDay
Finn, 5 year old therapy dog. His presence lights up every room and his smile steals everyone's heart.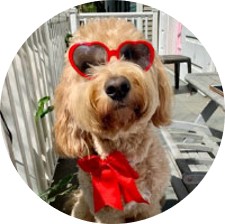 As a therapy dog, Finn provides such a calming presence that restores and heals patients in ways that cannot be done by a physician. Animal therapy is beautiful to watch, and we're proud of the smiles he brings to so many patients and their families on their worst days.
Favorites: meat bones, pork jerky, and a kong with peanut butter in it
Home away from home: Touro
A day in the life: Finn makes daily medicine rounds at Touro with his mama, a hospitalist, Dr. Christie Kimball
Little Something Extra: One hilarious thing he does is he will let out a loud howl every time he hears a police or ambulance siren! It's as though he feels a duty to warn everyone there's an emergency!
Finn's human: Dr. Christie Kimball
She's trained in Internal Medicine, completing her residency at Tulane in New Orleans.
How did Finn come to be part of the family?
Finn was born in Madisonville, LA to a small family litter of F1b standard golden doodles bred by one of Dr. Kimball's friends' families. He is one of the greatest joys and blessings and she could not be more grateful that he's part of her family.
Winston, aka Winnie, 1-year-old service dog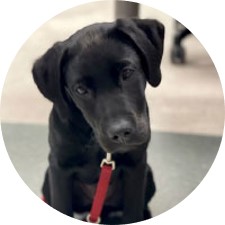 He is a puppy in training and will report for official service dog training in May 2022.Favorites: peanut butter
Home away from home: Touro
A day in the life:
At Touro, he is stationed in the W4-Stroke/Brain Injury Rehab Unit.
Winston is an early riser and goes for a mile and a half walk around Bayou St. John each morning. He greets everyone he sees at the Foucher entrance on his way into work. He then assists his puppy raiser, Maggie, with making her daily schedule. After the schedule is made, he either goes with his puppy raiser to her first session or sits and waits to make patient rounds with the Nursing Unit Director, Lynn. He gets tons of love from all the patients and team members. After rounding, Winston settles in for a nap or heads to the gym to play and motivate patients. You can often find him snoozing on his chair in the office he shares with RN, Michelle, his nanny. Around 4 pm Winston, aka Winnie, is ready to head home and hang with his neighbors. Winston also loves helping Human Resources recruit at events in the Rehab gym.
Little Something Extra: Giving all the patients kisses even when they don't necessarily want them.
Winston's human: Maggie Homer
She's a Speech Therapist who has worked at Touro since 2017. She enjoys making the hospital feel a little more like home for patients. She had a prior patient who wanted to bring their service dog in training to the rehab unit while they recovered from a stroke. When the puppy arrived, it changed the dynamic on the rehab unit and made both staff and patients smile more. Myself and a coworker decided to puppy raise on the rehab unit in Spring 2019. Touro, the first puppy she raised at Touro Inpatient Rehab, passed and was placed with his Veteran in March of 2021. The whole rehab unit and hospital was so proud of him and glad to be able to give back to a Veteran. Hopefully, Winston will be able to follow in his paw prints.
How did Winston come to be part of the family?
They decided they were ready to raise again once they knew Touro, their first puppy in training, had passed. They got to hold two 6-week-old pups and picked out our sweet boy, Winston.
Thor Helmstetter, 9 year old therapy dog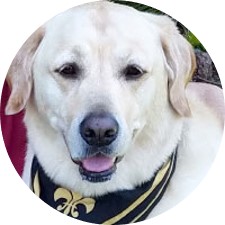 Watching him do his magic with people is inspiring. He talks with his actions. Favorites: pork skins, white cheese puffs
Home away from home: West Jefferson Medical Center
A day in the life: At West Jefferson Medical Center, he visits patients in Cancer Center and Rehab then makes rounds on nursing departments for emotional support for his healthcare friends (since COVID).hen not at hospital, he's on guard duty at home. He's been a therapy dog for four years.
Little Something Extra: He loves the pool and will only fetch one special Nemo toy and ignores everything else.
Thor's human: Pam Helmstetter
She's a perinatal educator for the Family Birth Place since 1991. Thor is her third therapy dog.
How did Thor come to be part of the family?
A friend's dog had yellow lab/golden retriever puppies. And the rest is history.
Visiting Pet Program
The only animal-assisted activity/therapy program in the Greater New Orleans Area.
Home away from home: Children's Hospital New Orleans
A day in the life: Visiting patients Mondays at 6pm for about 1 – 1 ½ hours. These furry volunteers know how to make our patients and team members feel extra love.