Two different COVID-19 vaccines? Let's break it down.
Yeah, we've been asking this question, too. What exactly is the difference between the two COVID-19 vaccines? And there are more vaccines on the way?? Someone, please explain.
What are the names of the two vaccines?
As of the time this blog is published, there are two COVID-19 vaccines currently approved for emergency use by the Food and Drug Administration (FDA):
Pfizer-BioNTech vaccine: approved for people age 16 and older, 95% effective
Moderna vaccine: approved for people age 18 and older, 94.1% effective
Not to complicate things, but yes, there are more vaccines being tested in clinical trials.
Are the two vaccines alike in any way?
Both the Pfizer and Moderna immunizations are mRNA vaccines, which is a new type. While other vaccines trigger an immune response through a weakened germ, mRNA vaccines teach the body's cells to make a protein that triggers an immune response. The immune response produces antibodies, which is what protects you from infection if you come into contact with the highly contagious coronavirus that causes COVID-19.
How are the vaccines different?
The Pfizer-BioNTech vaccine, which has to be shipped and stored at -94 Fahrenheit, needs to be administered within five days of being thawed. If you get this vaccine, you will receive your second dose three weeks (or 21 days) after your first dose of the vaccine. Ensure you get your second dose as close to the recommended three-week mark as possible.
The Moderna vaccine, which has to be shipped and stored at -4 Fahrenheit, can be refrigerated for 30 days after thawing. If you get the Moderna vaccine, you will receive your second dose 1 month (or 28 days) after your first dose. Then have your second dose of the vaccine as close to the recommended 1-month mark as possible.
Will I know which vaccine I'm receiving? Will I have a choice?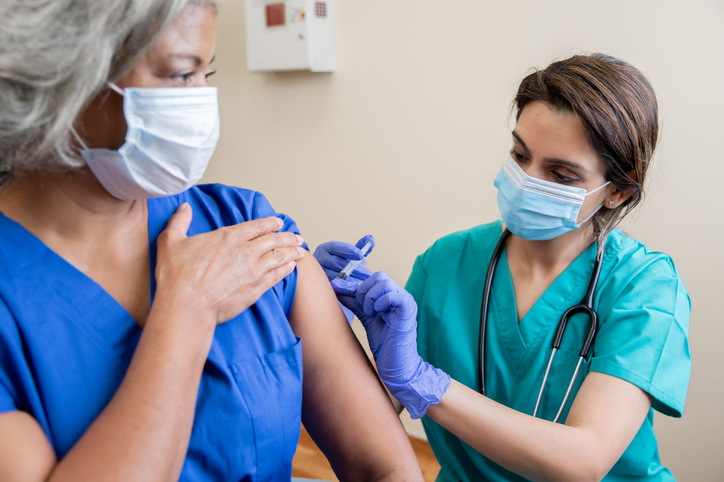 At this time, LCMC Health is administering both the Pfizer-BioNTech and Moderna vaccines. As quantities and distribution continue this year, and as more vaccines are approved for emergency use, this could change.
When receiving the COVID-19 vaccine at LCMC Health, the person giving the vaccine will:
Tell you which vaccine you've been given and when to come back for your second dose.
Give you a vaccination card with your date of vaccination, the name of the vaccine you received, and the lot number.
Give you a fact sheet about the benefits of the vaccine you received.
Explain that the vaccines may have side effects, including arm soreness, swelling, redness, chills, fatigue, and fever—none of which should last more than 24 hours.
"I would advise people to keep their vaccination card in a safe place so that, ultimately, if we get to a point where people have to prove vaccination, they can," says Jeffrey Elder, MD, Medical Director for Emergency Management at LCMC Health.
What do I really need to know about these vaccines?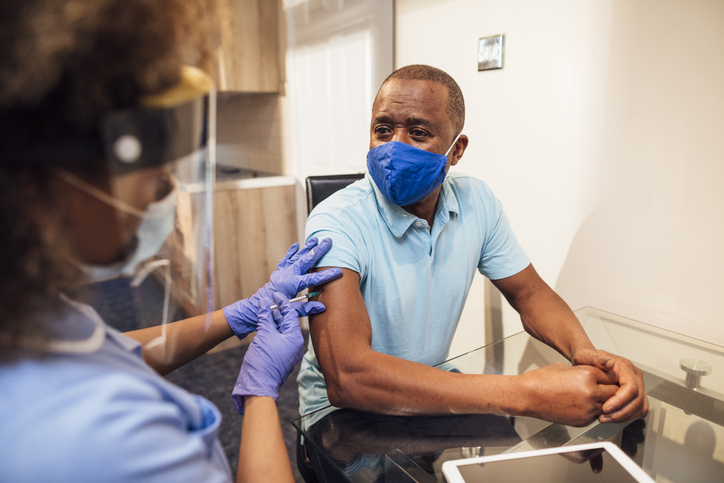 The most important thing to know about these vaccines is that even after you receive both doses, you should still continue following the Centers for Disease Control and Prevention guidelines for staying safe from COVID-19:
Wear a mask over your mouth and nose when in public.
Wash your hands with soap and water for at least 20 seconds (or use hand sanitizer).
Stay 6 feet away from others.
Until we have a high vaccination rate in our community, we want to protect ourselves and our loved ones. Yeah, we said it. It's okay to be selfish and protect yourself.
To learn more about COVID-19 vaccines, visit lcmchealth.org/vaccines.