EJGH Receives $60,000 to Benefit Outpatient Oncology Infusion Center
Category: News
Posted On:
9th Annual Lympho-Maniac 70's Party raised money to expand and modernize the chemotherapy area
East Jefferson General Hospital (EJGH) has received $60,000 in proceeds from the 9th Annual Lympho-Maniac 70's Party held on March 26. Chad Landry, the founder of the New Orleans Lympho-Maniacs and EJGH Foundation Board member, announced that all money raised from the event would support the East Jefferson Capital Campaign to expand and modernize the Outpatient Oncology Infusion Center located in the Yenni Treatment Pavilion.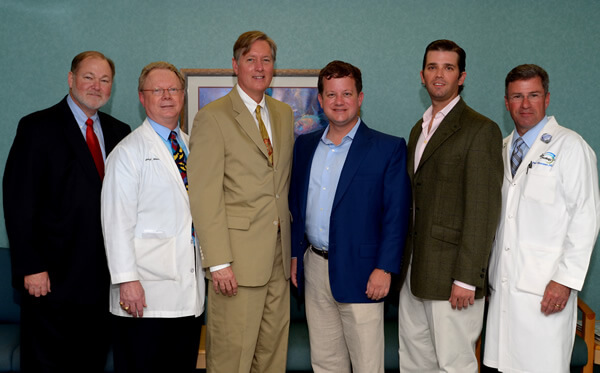 This community event has a special history. Landry is an EJGH patient and Hodgkin's Lymphoma survivor. He graduated from LSU, spent three years working in Houston, then moved back to New Orleans in January 2002. Shortly thereafter, he decided to hold a party with the help of friends and family in order to raise awareness and money for local cancer non-profit organizations. The party has evolved from its early days into a premier event. Since its inception, New Orleans Lympho-Maniacs have raised almost $200,000 for local cancer causes here in New Orleans.
"As a cancer survivor, I can tell you first-hand about the quality of cancer care at East Jefferson," says Landry. "They have always had expert physicians and staff that are supported with top-notch cancer-fighting technology. I wanted to donate these proceeds to ensure that the flagship cancer center in the state will be able to also offer the premier oncology facilities needed now and in the future."
East Jefferson General Hospital Foundation has launched a $3 million Capital Campaign that will significantly expand its capabilities to treat cancer patients in the Gulf South. Plans highlights call for the following major renovations:
The enlarging facility from 3,300 sq. ft. to over 11,000 sq. ft.
The increasing number of infusion stations from eight to 22.
Expanding Fast Track service to more quickly serve patients.
Adding a multi-media conference center and a cancer resource library.
"On behalf of East Jefferson, I want to thank Chad Landry, the local businesses that supported the Lympo-Maniacs 70's Party, and the over 1,200 people who came out to enjoy the event," says Dr. Mark Peters, EJGH President, and CEO. "As a community hospital, we are honored that the community believes so strongly in our ability to help people win their fight against cancer. This Capital Campaign will secure our ability to remain a nation's leader in oncology services and will allow us to treat the growing number of patients who trust us with their care."
East Jefferson General Hospital
East Jefferson General Hospital is a publicly-owned, not-for-profit community hospital. This service district hospital, formed in 1965, receives no tax support from Jefferson Parish. The 454-bed hospital is accredited by the Joint Commission on Accreditation of Healthcare Organizations and is Louisiana's first Nurse Magnet hospital.