Spring clean-up: Kitchen edition
The weather is warming up, the days are getting longer, and people are hanging up their beads after another unforgettable Mardi Gras celebration. Spring is on the way, NOLA. Can you feel it?
This time of year can feel like the perfect opportunity for a fresh start. In fact, many of us start to get an itch to partake in some good old spring cleaning. Whether it's our house, our yard, our email inbox, or our diet and lifestyle—that post-Carnival energy of springtime can be just the boost we need to power through a serious clean-up.
Spring cleaning can be refreshing, relaxing, and (dare we say it?) fun. It's also a great time to re-focus on our overall wellbeing goals. For many, that includes eating a nutritious diet—but is unhealthy clutter in your pantry getting in the way?
If your kitchen and pantry is chock full of all the wrong stuff, it can be tough to choose healthy options to eat. This spring, we're here to help you freshen up your pantry by filling it with the right stuff instead. Sharla Boothe, our lead dietitian, has got all the tips you need to get started.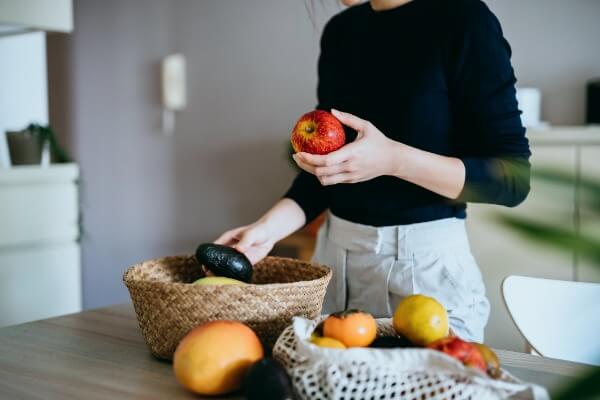 Get everything out on the table
Sharla recommends starting by taking everything out of your kitchen cabinets and pantries so you can get a sense of what you have. Check expiration dates and get rid of anything that's overstayed it's welcome. Assess what you want to keep, and what you want to donate to a local food pantry.
Freshen up your shelves
Before putting everything back in the cabinet, wipe down dusty packages and cans, shelves, and cabinet walls for an extra-clean base. You can use your favorite cleaning spray, or a mild soap and water mixture. Be sure to get all the crumbs out of the back corners to reduce temptation for pests!
Restock with smart swaps
Clearing out your pantry is the perfect opportunity to restock with new, healthy food shopping choices for your household. Here are some of Sharla's top swaps:

Beverages
Instead of sodas and juices, try sparkling or fruit infused water or sugar free drink flavor packets
Instead of sweat tea, try herbal teas
Instead of sugary energy drinks, try brewing your own hot coffee or cold brew (decaf if needed)

Proteins:
Instead of processed meats and deli cold cuts, Sharla suggests stocking up on a variety of fresh, protein-packed options including:
Grass fed beef
Wild caught fish
Poultry (Look for options without antibiotics)
Cage-free eggs (For added nutrition, choose options with Omega-3)
Hummus
Beans and lentils
Fresh seafood

Fruits and Veggies:
Make healthy fruits and veggies a top priority when it comes to cleaning up your kitchen. Sharla recommends swapping out canned fruits and vegetables (which can be high in sugar and sodium) for fresh or frozen versions. Having plenty of these healthy options on hand can be great for snacks, side dishes, salads, and smoothie ingredients. Some of Sharla's favorite options include:
Apples
Carrots
Greens
Broccoli
Cauliflower
Greens
Squash
Root Vegetables
Lettuce
Peppers (julienne sliced, or mini-sweet peppers are great for dipping in hummus!)
Tomatoes
Bananas
Oranges
Grapes
Cantaloupe
Watermelon
Berries
Dairy:
Dairy is delicious, and luckily there are many cleaned-up, nutritious alternatives to conventional dairy milk and overly processed sliced cheeses. Sharla recommends choosing from the following:
Organic, pasture-raised milk
Feta cheese
Goat cheese
Cottage cheese
Greek yogurt
Kefir
Low-sugar milk alternatives such as: Soy, almond, cashew, hemp, rice, and coconut
Grains:
Instead of white bread and rice, Sharla suggests choosing fiber-rich, vitamin-packed whole grain options. Some of her favorite options include:
Sprouted grains of all kinds (including bread, rice, and quinoa)
Cornmeal items
Basmati or jasmine rice
Brown rice
Barley
Spelt
Teff
Amaranth
Wild rice
Quinoa pasta
Millet
Kamut
Gluten-free grains if needed

Oils and Butter
For cleaner cooking and dressing, Sharla suggests switching from corn and soybean oils to these healthier, anti-inflammatory options:
Extra virgin olive oil
Canola oil
Avocado oil
Flaxseed oil (do not heat)
Organic butter

Nuts and Seeds
Nuts and seeds are great clean-pantry staples for quick, nutritious snacking. Sharla recommends swapping out salted nuts and hydrogenated peanut butters with the following raw options:
Walnuts
Almonds
Peanuts
Cashews
Pistachios
Macadamia
Pumpkin seeds
Sunflower seeds
Chia seeds
Flax seeds
Pine nuts
Natural peanut butters and almond butters (unsweetened)
Spices and Condiments
Every kitchen needs its stock of tasty seasoning and spices. For a cleaner way to flavor your foods, Rosetta suggests switching from salt-heavy seasonings to these better choices:
Turmeric
Vinegar
Fresh or dried herbs
Soy sauce (low sodium)
Cacao powder
Tamari sauce
Black pepper
Lemon and lime
Ginger
Garlic powder
Onion powder
Mint
Sea salt (in moderation)
To learn more about healthy lifestyle choices, schedule an appointment with one of our primary care providers.
About Sharla Boothe
Sharla Boothe is the Lead Clinical Dietitian at University Medical Center New Orleans. Originally from New Orleans, she has lived in southern Mississippi and central Louisiana prior to making her way back to the city that instilled a passion for good food!