Family Medicine Residency Program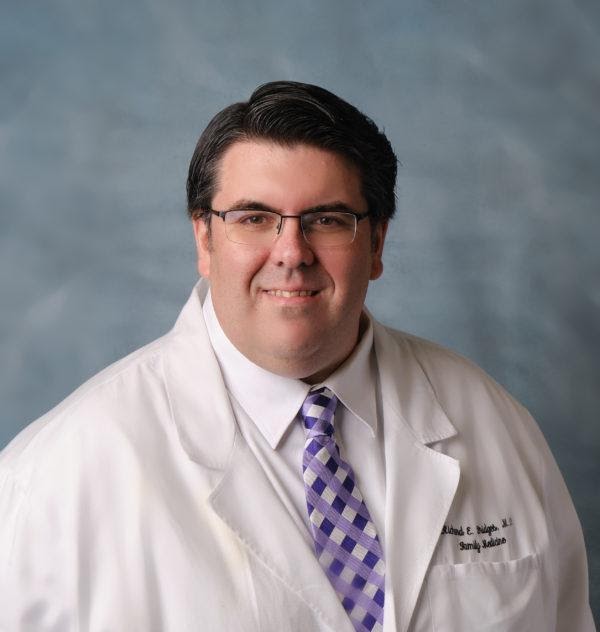 Welcome to the East Jefferson General Hospital Family Medicine Residency Program! Our university-affiliated, community-based program is unopposed and maintains a greater than 10 year 100% board pass rate as well as ACGME accreditation without citation. The mission of the East Jefferson General Hospital Family Medicine Residency Program and its Sponsoring Institution is to provide comprehensive, high quality, compassionate health care to the people we serve and to train competent, well-rounded family physicians that will provide exemplary care to the citizens of Jefferson Parish and the surrounding area, as well as to increase the primary care physician workforce in our community.
As the Interim Program Director, I wish to continue this program's tradition of providing a well-balanced foundation in both inpatient and outpatient medicine while allowing residents to grow and develop their own pathways in medicine.
We are located in a New Orleans suburb that allows you to have a small town experience but also take advantage of all this great city has to offer. The majority of your professional time will be spent on the East Jefferson campus at our 407 bed hospital. Our residents also rotate in University Medical Center's Level I Trauma Center and on the inpatient teams at Children's Hospital.
The strength of our program lies in the people who comprise it – our 6 core and 17 adjunct faculty who are diverse in age, background and interests, our residents (6 per class), our residency support staff, and our clinic staff. As a result of this outstanding support network, we have been able to not only weather the recent challenges of the Covid pandemic but also natural disasters. Our residents and faculty have been instrumental, both in the clinics and hospital, in maintaining the high standards of personalized care that our patients have come to know and trust.
It is my hope that our site gives you a glimpse into the collegial atmosphere of our program that is both fun and challenging. We are looking for motivated residents with an innovative spirit who are enthusiastic learners with a diligent work ethic and a willingness to advocate for their patients. In short, we are looking for residents who are passionate about Family Medicine. In return, our residency program commits to fostering your intellectual curiosity, providing a safe learning environment, and accounting for your well-being.
We would love the opportunity to share our vision of Family Medicine and our program with you and hope that you would consider becoming a part of it.
Sincerely,
Richard E. Bridges MD, FAAFP
East Jefferson Family Practice Center
Address:
Medical Plaza
4228 Houma Blvd
Suite 230
Metairie, LA 70006
Phone Number: 504.503.6206
Program highlights
Tulane University School of Medicine
Through our affiliation with Tulane, we have access to many academic resources, including the Tulane medical library and the simulation lab. We welcome Tulane medical students in our clinic and on our inpatient rotations, giving our residents ample opportunity to teach. Tulane faculty precept in our continuity clinic as well as participate in a recurring didactic lecture series. We also collaborate with Tulane in SAPORO, the only practice based research organization in the Gulf South.
Outpatient training at the Family Practice Center

Our multidisciplinary clinic performs over 12000 patient encounters annually, serving patients of varying age, race, ethnicity and socio-economic status. Our patient population is approximately 30% Medicaid, 40% Medicare, 30% private insurance. In our clinic, residents become well-versed in office-based procedures that they can integrate into their future practice such as cryotherapy, incision and drainage, excision of skin lesions, pap smears, endometrial biopsies, colposcopy, and joint injections.
Inpatient training

Our residents graduate with an average of 1100 inpatient encounters each. Our team has the privilege of true continuity of care as we admit each of our own clinic patients. Residents become adept at managing the common and the obscure in our unopposed environment, open ICU, and on-campus post-acute care. Patients are managed by our team from the time they are in the ED until they transition back into their home.
Integrative medicine

Our residents complete a longitudinal integrative medicine curriculum through the University of Arizona, facilitated by our own fellowship trained faculty, Dr. Gordon Magonet. Though a broad range of topics are covered, we focus on nutrition, vitamins and supplements, and alternative pain treatment. Upon completion of the curriculum, residents receive a certificate from the University of Arizona.
Advocacy

Our residents and faculty are actively involved in advocacy efforts at both the state and national level. Residents attend annual White Coat Day and serve frequently as Family Physician of the Day at the capitol during the legislative session. Our residents have served as delegates to the AAFP and LAFP and core faculty member, Dr. Richard Bridges, chairs the LAFP Legislative Committee.
Community outreach

Our residents are involved in several community outreach projects. Through the Comprehensive Medical Mentoring Program (CMMP), residents mentor minority students who are interested in healthcare professions as early as high school. We staff Bridge House (a medical clinic for recovering addicts) as well as multiple school clinics. We perform participation physicals for high school athletes. Our residents administer flu vaccines to multiple businesses in our area. Our program is always looking for new ways to serve our community!
Curriculum
PGY-1
Inpatient Family Medicine Service (4 months)
Inpatient Pediatrics (2 months)
Obstetrics (2 months)
Emergency Medicine (1 month)
NICU/Nursery (1 month)
Surgery (1 month)
Psychiatry (1 month)
Family Medicine Clinic (2 half days per week)
PGY-2
Inpatient Family Medicine Service/Night Float (4 months)
Ambulatory Pediatrics (1 month)
Cardiology (1 month)
Practice Management (1 month)
Emergency Medicine (1 month)
Gynecology (1month)
Critical Care (1 month)
Orthopedics (1 month)
Pediatric Emergency Medicine (1 month)
Family Medicine Clinic (3 half days per week)
PGY-3
Inpatient Family Medicine Service (2 months)
Elective (3 months)
Ambulatory Pediatrics (1 month)
Dermatology (1 month)
Medicine Subspecialty (1 month)
Musculoskeletal (1 month)
Community Medicine (1 month)
ENT (2 weeks)
Neurology (2 weeks)
Ophthalmology (2 weeks)
Urology (2 weeks)
Family Medicine Clinic (4 half days per weeks)
Overview of benefits
Pay scale:
PGY-I $52,470
PGY-II $53,530
PGY-III $55,650
Chief Resident $56,650
Paid time off:
3 weeks annually for PGY1
4 weeks annually for PGY2 and PGY3
7 paid holidays per year
5 sick days per year

Other benefits:
Reimbursement is provided for educational classes and exams ( Step 3 exam, BLS, ACLS, PALS) and temporary permit/licensure paid in full by program.
CME funds available in years two and three.
Residents are given privileged parking in the physicians parking lot.
Breakfast and lunch are provided in the doctor's lounge on weekdays, 20% discount provided in the cafeteria with your I.D., and meal tickets provided when on-call.
Call rooms with private bathroom and shower, Internet access, and basic cable television are provided.
3 monogrammed lab coats are provided
Health & Dental Insurance with dependent coverage is available.
Complimentary membership to the Wellness Center
Program requirements
ERAS/NRMP
All Applicants must be registered through the National Resident Matching Program and apply through ERAS (no mailed, faxed, or e-mail applications). Our application deadline is the second Friday in January.
Visas
Applicants must be United State citizens or have Permanent Residency when submitting their application. Our program does not sponsor/accept any visas or EADs (work authorization documents).
Medical school
Completion of medical school training must be within the past three years.
Letters of recommendation
At least three individual letters of recommendation are required. At least one letter should be from a board certified physician At least one letter should be from a board certified family physician.
Licensure exams
A passing score is required on all USMLE or COMLEX exams with no more than two failures combined on all parts. Scores must be obtained by February 1.
International Medical Graduates
International Medical Graduates must be able to obtain a valid ECFMG certification and a Louisiana intern permit by the start of residency training on July 1st.
Experience
If medical school training was completed greater than one year prior to applying, it is mandatory that the applicant is engaged in a direct patient care experience during the year of application. Observerships and/or research experiences do not fulfill this requirement.
Our program is interested in candidates who wish to enter Family Medicine, and our Recruitment Committee will scrutinize your application for evidence of an interest in this field.
EJ residency graduates: where are they now?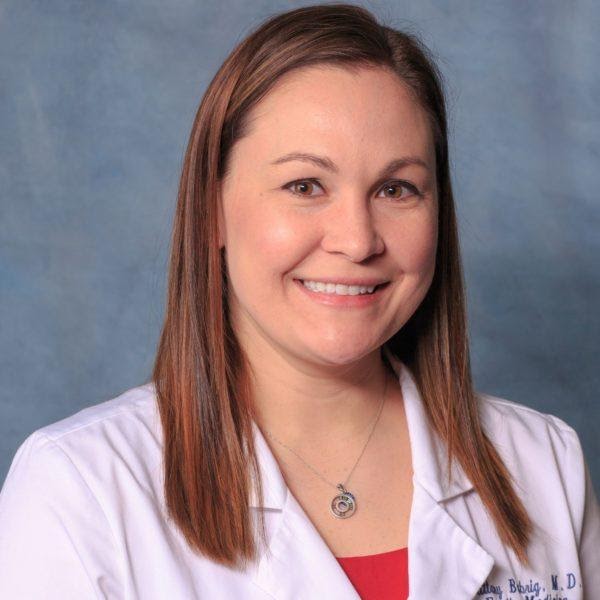 "I loved my program because it gave me a solid, well-rounded education in a supportive and unopposed environment."
- Brittany Tav, MD – Class of 2018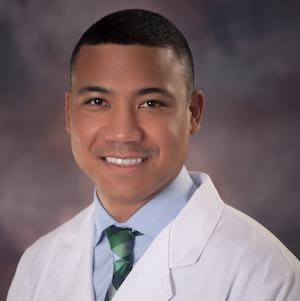 "All resident physicians should be surrounded by supportive faculty and staff, have a focus on team camaraderie, have the opportunity and autonomy to learn to care for patients the way they want to, and have confidence and competence instilled in them at the end of those three years. East Jefferson did this without a doubt."
- Dwayne Whitfield, MD – Class of 2020
" I chose EJ for great residents and staff, the types of patients and breadth of training experiences, and the great community served by the hospital. It prepared me well for the honor and responsibilities of private practice."
- Jonathon Sossamon, MD – Class of 2018
"EJ provides you with intense training that has prepared me well for a hospitalist position. With a family, work/life balance was important to me and I was able to achieve that at EJ."
- Ruby Bhullar, MD – Class of 2015
"I ranked EJ as #1 on my list because of the supportive, dedicated, and approachable faculty."
- Adenrele Olaosun, MD – Class of 2014
"EJ was my first choice for residency because it offered a broad range of clinical experiences in a caring environment. When I walked into the department I was struck by the fact that everyone was smiling and that the residents were happy. I was able to get a lot out of my residency at EJ – it made me a better doctor. Going to EJ was one of the best decisions I ever made."
- Joe Mather, MD – Class of 2014