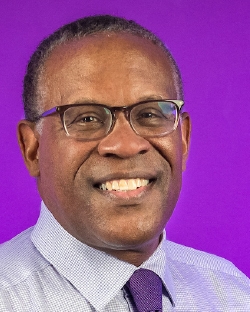 About Dr. Maupin, Jr
Dr. Maupin has been a member of the Maternal-Fetal Medicine Division for over 20 years and holds appointments as Professor of Clinical Obstetrics & Gynecology, Endowed Warren C. Plauche' Professor of Maternal-Fetal Medicine at the LSU Health Sciences Center and Associate Dean of Diversity & Community Engagement.
He is originally a native of Washington DC and an alumnus of the University Maryland Medical School. He completed residency training in OB/GYN with LSU, New Orleans at Charity Hospital, and Maternal-Fetal Medicine fellowship at University Maryland Medical Center. Nationally he has served as a consultant panel member of the US Public Health Service Perinatal HIV Guidelines Working Group, and has been a consultant for the CDC Division of HIV/AIDS Prevention. He has previously served with the NIH funded national/international IMPAACT and Pediatric AIDS Clinical Trials Group in clinical protocol development administration, and as a principal investigator with CDC sponsored clinical trials focused on perinatal HIV prevention.
Regionally, he has previously served as the Maternity Program Medical Health for the Louisiana Office of Public Health Bureau of Family Health, and currently co-chairs the Louisiana Pregnancy Associated Mortality Review Committee. He has served in the past on the Louisiana Perinatal Commission, and the Louisiana Office of Public Health STD Expert Advisory Panel, and is a Past President of the University Medical Center New Orleans medical staff.
As a clinician, he specializes in advanced obstetric ultrasound imaging, prenatal diagnosis, perinatal management of medical co-morbidities and infectious diseases with a focus on perinatal HIV management. In addition, since 2014 Dr. Maupin served as the School of Medicine as the Associate Dean of Diversity & Community Engagement. In this role he works closely with the schools Admissions and Student Affairs Divisions to advance quality institutional diversity programing, advance faculty development in cultural competency, and support pathways into the health professions for students from communities which are underrepresented in medicine.
Affiliations
Touro,
West Jefferson Medical Center,
East Jefferson General Hospital,
New Orleans East Hospital,
University Medical Center New Orleans
Education and Experience
Medical School
University of Maryland Baltimore, MD
1995
Residency
Medical Center of Louisiana UH & MCLNO New Orleans, LA
1993
Fellowship
University of Maryland Baltimore, MD
1995
Board Certification
American Board of Obstetrics & Gynecology