Dedicated women's breast center
At Lakeview Hospital , we are committed to providing women with comprehensive and personalized breast health services, from prevention and screening to advanced diagnostics, surgical cancer treatment, and survivorship care.
Screening, prevention and diagnostics
When breast cancer is detected in its early stages, the chances of survival are drastically increased. A mammogram is the single most-effective method of early detection. Our mammography department is accredited by the American College of Radiology and provides same-day results to our patients and physicians.
Breast imaging can help identify:
Abnormal growths
Breast cancer
Cysts
Lumps
Mastitis
Types of breast imaging include:
Breast MRI
Breast Ultrasound
Digital mammography
Stereotactic breast biopsy
Schedule A Screening Mammogram
3-D mammography
Lakeview Hospital has the latest in state-of-the-art technology—3-D mammography, also known as digital breast tomosynthesis. It is used as a screening and diagnostic tool to help detect cancer in its early stages.
3-D mammography detects 41 percent more invasive cancers and reduces callbacks for a second scan. The process takes less than a minute and renders a highly accurate, three-dimensional view of the breast.
The doctor can examine the tissue with greater depth instead of viewing the complexities of breast tissue in a flat image. With 3-D breast imaging, there are fewer false positives.
To schedule an appointment, call (985) 867-4019. 3-D mammograms require a doctor's order (no self-referral).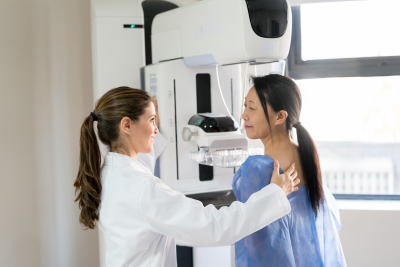 Stereotactic breast biopsy
Our radiologists perform stereotactic breast biopsies when a mammogram alone cannot determine whether a growth is benign or cancerous. With the guidance of a special computerized mammography machine that uses intersecting coordinates to pinpoint the area of tissue change, a tissue sample is removed, and can be further examined for malignancy
Surgical services
Our medical staff, including a wide variety of both general and plastic surgeons, provide women on the Northshore with advanced mastectomy and breast reconstructive options, including implant and flap reconstruction.
Procedures include:
Lumpectomy – surgery to remove abnormal breast tissue
Restorative breast surgery (flap reconstruction, implants) – surgical options to rebuild breasts following mastectomy
Mastectomy – surgical removal of all breast tissue
Plastic Surgery