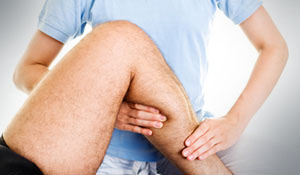 While many therapy programs typically provide care with the assistance of technicians or aides, our approach focuses on a direct therapist-to-patient relationship and individual hands-on therapy. The staff at Lakeview Hospital 's Rehabilitation and Sports Medicine Center is committed to listening to patients and providing the latest advances and information through patient education. This ensures continuity in each patient's treatment and allows for greater goal–setting and accomplishments for the therapist-patient team. Awareness and self-care are always considered key to patients' health.
Our therapists work together using a multidisciplinary approach to deliver exceptional team-based therapy for neurological diagnosis such as traumatic brain injury, spinal cord injury and stroke.
Specialized programs
The Lakeview Hospital Rehabilitation Department is the only facility in West St. Tammany Parish to offer LSVT LOUD™ and LSVT BIG™ for the treatment of individuals with Parkinson's disease and other neurological conditions using innovative and clinically proven methods for improving communication and movement. Our occupational therapists receive specialized training in the use of this type of therapy.
LSVT LOUD™
LSVT LOUD™ is considered the gold standard in treating speech disorders for people with Parkinson's Diseases and has demonstrated improved vocal loudness, improved speech intelligibility and more facial expression. Research on LSVT BIG™ therapy has documented improved ratings on tests of motor functioning after treatment, including: faster walking and bigger steps, improved balance and increased trunk rotation.
It therapy consists of 4 one-hour treatment sessions a week for 4 weeks plus daily homework. Therapy includes increasing intensity, increasing breath support, increasing pitch range and improving vocal quality. Additional improvements that have been noted include improvement in swallowing and the masked facial expression which often accompanies Parkinson's disease.
LSVT Big™
At Lakeview Hospital , a certified Occupational Therapist uses the LSVT Big™ technique to drive intense and high effort practice and teaches the amount of effort required to produce normal movements. LSVT Big™ therapy consists of 16 individual sessions, 4 consecutive days per week for 4 weeks plus daily homework and exercise practice.
To schedule an appointment call Lakeview Rehabilitation and Sports Medicine at 985.867.4054 or fax physician orders to 985.893.6840.
The Rehabilitation and Sports Medicine Center is located across the street from Lakeview Hospital at 19055 Kane Lane Covington, LA 70433.