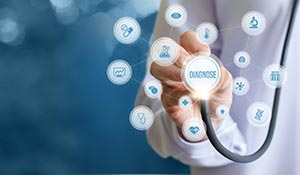 Lakeview Hospital recently invested in a new diagnostic machine that will allow doctors to detect and treat diseases earlier than ever before. Disease diagnostics with PCR technology by BioFire greatly simplifies the molecular identification of infectious diseases, increasing the speed and efficiency of the hospital and decreasing the cost to patients.
The Importance of Disease Diagnostics
Diagnosing a disease correctly at an early stage can make all the difference in treatment. Identifying infectious diseases before they spread improves the chances of recovery. In addition to helping the individual patient, prompt diagnosis helps reduce healthcare costs. Correctly identifying the cause of a patient's symptoms avoids the need for trial-and-error treatment or over-prescribing of medication.
PCR Technology for Testing and Diagnosing Infectious Diseases
PCR is a technique that amplifies a DNA sequence and replicates it thousands or even millions of times. While this has broad application across multiple scientific fields, it is particularly important in diagnosing infectious diseases. By rapidly replicating the DNA sequence of infectious pathogens, the presence of the pathogen can be detected earlier than with standard tests. Essentially, PCR isolates a potentially infected sample from a patient, and then speeds up the spread of the pathogen. With more of the pathogen present in the sample, it is easier to identify.
How the FilmArray® System Works
The FilmArray® System by BioFire uses one single streamlined piece of equipment to identify the pathogens that cause infectious diseases. After a sample is drawn from the patient, it is set up in a sample pouch and injected with a hydration solution that contains all the compounds necessary for isolating pathogens. The pouch is then placed into the FilmArray® system. After the system analyzes the sample, an attached screen reports whether or not each pathogen tested for is present in the sample. All this can be done in about an hour, giving patients answers and options quickly.
Quality Medical Care and Disease Diagnostics at Lakeview Regional
Lakeview Hospital is currently the only medical treatment facility on the North Shore with this cutting-edge technology. Lakeview Hospital believes in investing in the latest medical technology to improve accuracy and patient experience. Our commitment to putting our patients first has placed us among the most awarded medical centers in the region.
Lakeview Hospital is proud to offer Disease diagnostics with PCR technology by BioFire. Rely on Lakeview Hospital for all of your healthcare needs.