Play it safe, don't get burned this Independence Day
The Fourth of July and fireworks go hand-in-hand. Unfortunately, fireworks can cause serious burn injuries. According to the United States Consumer Product Safety Commission, on average, 180 people go to the emergency room every day with firework-related injuries in the month around the July 4th holiday.
It's always best to leave fireworks to the professionals. Private use of fireworks is banned in some parishes, including Orleans Parish. I you're planning to celebrate America's birthday with backyard fireworks, please follow local laws and remember to make safety a priority. Here are some tips from our Burn Center and Injury Prevention teams.
Fireworks should always be handled by an adult.
Consider confetti poppers, glow sticks, or colored streamers instead for children to play with. Many think sparklers are harmless, but sparklers burn very quickly and at over 2,000 degrees F. Water boils at 212 degrees F and you can bake a cake at 350 degrees F, and ignited sparkler can cause a serious burn to your body.
Always stand away from the firework when lighting the fuse.
Standing directly over a firework puts you at great risk of getting struck by the explosive. Always stand behind the firework and step back to a safe distance immediately after lighting the fuse.
Throwing a firework in the direction of another person is dangerous.
Light one firework at a time. Horseplay with fireworks should always be avoided. Exploding fireworks, including small ones, can cause burn injuries that cause permanent disfigurement or damage to a person's body.
Have a hose or bucket of water available when shooting fireworks.
You should always have a hose or bucket of water available in case of a fire or mishap. It is always better to be prepared and not need water than to need water and not be prepared.
If a firework malfunctions, it is best to discard it.
When a firework does not have the intended effect, you should never try to relight it or correct the possible malfunction. Always soak the explosive and discard it. Malfunctioning fireworks are unpredictable and dangerous.
To avoid a trash fire, always douse water on the completed device before placing it into the trash.
Smoldering fireworks can cause a trash fire that can easily spread. Always soak before discarding.
Gasoline and an accelerant do not mix with fireworks.
Never use gasoline or an accelerant around fireworks. Ignitable liquids can ignite easily or explode.
Please call 911 and seek medical help immediately if an injury occurs. If a burn injury should happen, please remain calm and follow these simple steps:
Cool the burn with cool (not cold) water to stop the burning process
Remove all clothing and jewelry from the injured area
Cover the area with a dry clean sheet or loose bandages
Seek medical attention as soon as possible
Have a safe and happy 4th of July. To learn more about our Burn Center click here. For more information about our Community Injury Prevention Program please click here.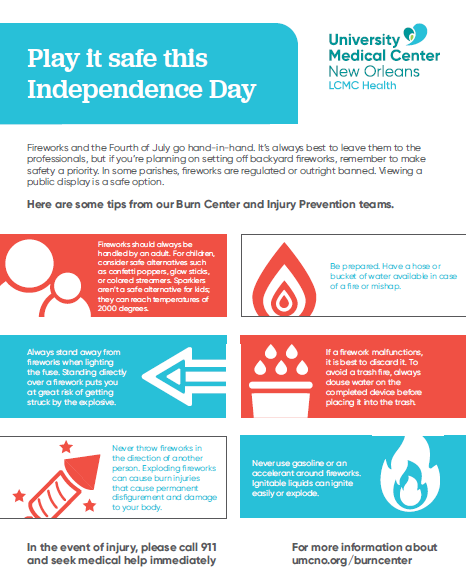 Download and share our Firework Safety Flyer here.