Knee replacement: A sweet success
Around the middle of last year, Gwendolyn started feeling unbelievable pain constantly throughout the day. She couldn't sit for too long or get out of a chair without her joints hurting and being in tremendous pain. Her pain was starting to affect her everyday life and she knew she couldn't continue bearing through the agony.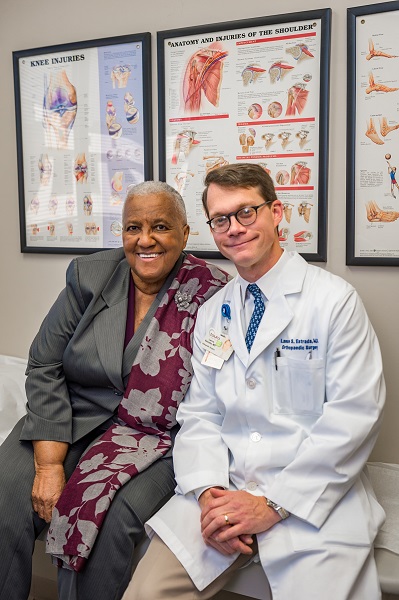 A change for the better
Gwendolyn was hesitant to return to the physician and hospital where she had her first procedure, so her daughter convinced her to come from Alabama to New Orleans for a consultation at Touro with Dr. Lance Estrada. Touro's Bone & Spine Center is a Comprehensive Care for Joint Replacement Center and cares for patients across the gulf south region. When Gwendolyn met with Dr. Estrada she knew this experience would be different. He reviewed her x-rays with her, listened to her concerns and discussed the importance of knee replacement surgery and how it would decrease her pain and improve her quality of life. "He saw how bad my knee was and suggested that I have the knee replacement sooner than later and I told him 'I'm ready" Gwendolyn recalls. They then scheduled the knee replacement surgery for January 6, 2019.
Gwendolyn's experience with Dr. Estrada and the Touro Bone & Spine team was completely different than her first knee replacement surgery.
Comforting care
On January 5, the day before her scheduled surgery, Gwendolyn arrived at Touro for her comfort night at the hospital. Touro's Bone & Spine Center schedules patients to come into the hospital the night before surgery for a comfort night where the patient can get settled into their hospital room and relax the night before the surgery, with no interruptions. "We checked in on Sunday night and they put me in the most beautiful room overlooking the city," Gwendolyn shares. She believes that this comfort-night helped her relax the night before surgery, and in return, has also helped her recovery.
The next morning, they took Gwendolyn into the surgery room and began her knee replacement. Once the surgery began, the knee replacement was finished in a total of 20 minutes. She spent a few days in the hospital post-surgery and was discharged with instructions for physical therapy.
As nice as pie
When talking about her time in the hospital, Gwendolyn says, "I've been in many hospitals and none of them compared to the treatment I got here. From the Sunday comfort night to the time I checked out, the entire staff, from housekeeping, dietary, my nurses and therapist, everyone was so personable. They made me feel so welcomed and so special."
Since Gwendolyn was released from the hospital, she has been going to physical therapy to help strengthen her knee, restore her knee movement, and to help her walk again without the assistance of a walker or cane. At three weeks post-operation, she can do the exercises that normally takes patients six to seven weeks to do. She is progressing faster than the average person and she gives that credit to Dr. Estrada saying, "Dr. Estrada's care and skill is just so extraordinary and awesome."
"I feel like I can run a marathon now. It has changed my life. When your body is in pain, you're a different person. I was not my bubbly self before my knee replacement. It has changed my whole personality and I came out on the better end this time."
With a few more weeks of physical therapy ahead, Gwendolyn looks forward to begin baking again and preparing to sell her famous pies at Jazz Fest in April, without any pain.