Labor, Delivery, & Postpartum Care
We are happy you have chosen the Family Birthing Center at Touro – "the place where babies come from" – to help bring your new bundle of joy into the world. The Family Birthing Center at Touro offers a full-scale, individualized, and positive approach to birth preparation, labor, delivery and postpartum care. Our partners at Children's Hospital New Orleans are then available to offer pediatric care for your new baby – helping your child grow through every exciting milestone.
Take a Tour of the Family Birthing Center
---
What is Touro's OB Hospitalist Program?
Touro's Obstetrician Hospitalist program ensures 24-hour staffing of hospitalist physicians trained in Obstetrics and Gynecology. This program integrates clinical and hospital OB/GYN practices to provide a collaborative care model that focuses on a safe and healthy delivery for both mom and baby. More about your labor and delivery experience
Find the provider that's right for you.
---
Pregnancy and prenatal care
Whether you live Uptown, on the Westbank, in New Orleans East, in Metairie, or any place in between, Touro is here to provide the exceptional, personalized care you're looking for, along with the latest technology, in a comfortable environment. Before baby comes, take a tour of our beautiful facility and learn more about our Maternal Fetal Medicine Clinic and childbirth education classes. Learn more about prenatal care.
---
Classes
At Touro, we know that parents new and experienced can always learn more about preparing and caring for a new child. Take a baby food making class, an infant CPR class, or learn about hypnobirthing to help prepare for the birth of your baby. Register for one of our many prenatal and early parenting classes. View our complete class schedule here.
---
Midwives & doulas
At Touro, we support all birth options whether you would like a certified nurse midwife, a supporting doula, or hydrotherapy in labor. It's important that each patient finds the birth team that is right for you. Your provider along with the caring nurses and staff at the Family Birthing Center will work together to ensure a safe and healthy delivery. Learn more about our midwives..
---
Breastfeeding support
Breastfeeding is one of the most natural things a new mother experiences with her baby. As a Baby Friendly designated birthing center, we provide support to each new mom as you begin your journey to breastfeeding. Touro's lactation center offers you full-service breastfeeding support, from classes and one-on-one appointments to nursing bra fittings - all in one place. Learn more about our breastfeeding support.
---
Amenities for mom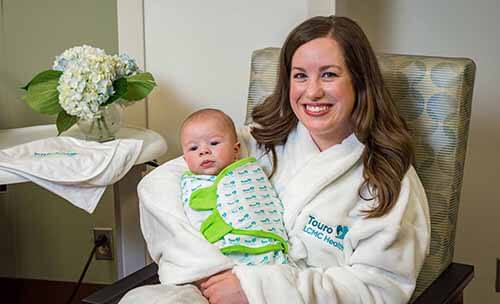 At Touro, we know the importance of individualized care. Our Family Birthing Center providers and staff work with our moms-to-be to create a unique birth experience to safely welcome baby to the world. We also offer ways to make mom's visit to the Family Birthing Center at Touro a luxurious one by offering amenities packages. Learn more about our amenities for mom.
A few important phone numbers and websites you'll need before, during and after the arrival of your little bundle of joy! View contact information.
---
Patient stories from Touro
Kewanda's birth story